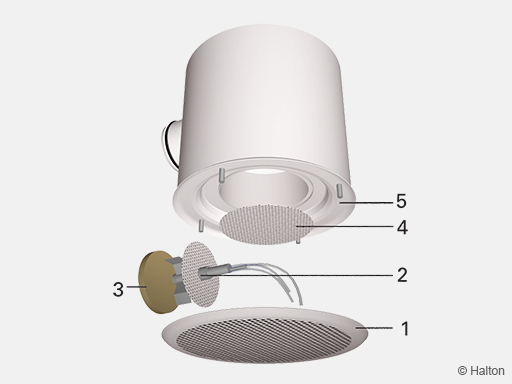 Code description
1.   Front panel
2. . Measurement and adjustment module
3.   Pressure test plug
4.   Equalisation plate
5.   Plenum
The supply volume flow rate is determined using the measurement and adjustment module MSM.
Open the front panel and equalisation plate, pass the tubes and control spindle through the equalisation plate and side slot of the diffuser.
Replace the front panel.
Measure the differential pressure using a manometer. The airflow rate is calculated using the formula below.
Adjust the airflow rate by rotating the control spindle until the desired setting is achieved.
Lock the damper position with a screw.
Reassemble the tubes and spindle into the plenum and replace the diffuser front panel.
The exhaust flow rate is determined by using the separate measurement module located in the equalisation plate.
The k- factor for installations with different safety distances (D = duct diameter)
Supply air
| | | |
| --- | --- | --- |
|  ØD | (>8xD) | min 3xD |
| 100 | 6.0 | 8.5 |
| 125 | 10.0 | 13.0 |
| 160 | 17.1 | 22.8 |
| 200 | 27.5 | 32.1 |
| 315 | 47.9 | 55.5 |
Exhaust air
| | |
| --- | --- |
|  ØD  | k  |
| 100 | 8.7 |
| 125 | 21.6 |
| 160 | 21.6 |
| 200 | 53.1 |
| 250 | 53.1 |