Overview
Features and Benefits
Multiple Units throughout the space to be energized during unoccupied times to disinfect up to 99% of all irradiated, exposed surfaces.
UVGI (Ultraviolet Germicidal Irradiation)
Inactivation of airborne pathogens
Halton Control System Main PLC
Occupancy Sensors
Timer is set based on room layout to maximize effectiveness
Integrated to Halton Connect
120/1 15 amp circuit is required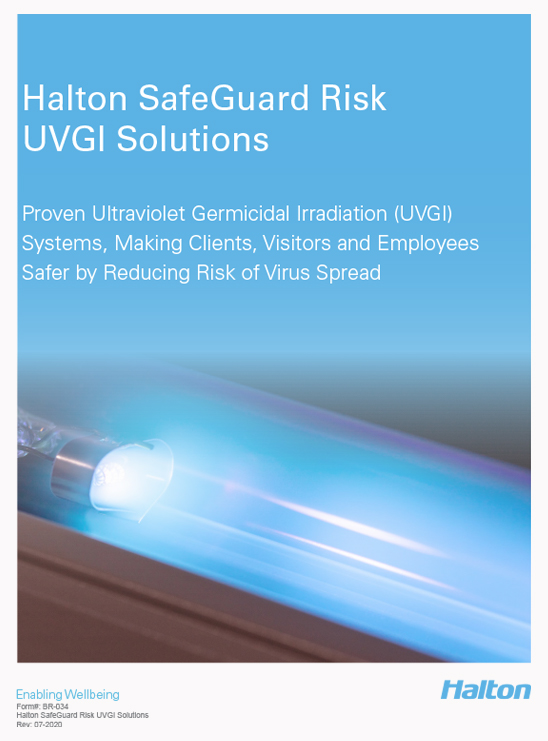 View Halton's SafeGuard Risk UVGI Solutions Brochure
Specification
Provide a Halton UVGI-OL Overhead Ultraviolet Germicidal Irradiation light fixture. The unit shall be constructed of aluminized steel with powder coat baked enamel finish with integral lamp reflector.
The unit shall be equipped with 1 UVGI tube rated at 13,000 hours and 254nm. UV-C bulbs outside of the 254nm range or producing ozone are expressly prohibited.
The UVGI bulbs shall have an output of 171 micro watts per square centimeter with 120/1/60 input power.
The unit shall come equipped with an occupancy sensor to limit accidental exposure to UV-C lights.
Multiple UVGI-OL shall be supplied with interconnecting cables to daisy chain the fixtures. The unit shall be built to UL Standards.
Dimensions
Weight: 22 lbs (10 kg)