UVGI-SA-W – Halton Sentinel Wall Filtration Unit
The Halton Sentinel Wall Unit is suited where a permanent installation is impractical and can be moved to any area requiring Ultraviolet Germicidal Irradiation.
The volume of the space guides the air changes per hour, while the units are designed to be operated continuously to filter airborne pathogens.  Multiple units can be added to spaces and provide additional filtration.
Overview
Features and Benefits
Recirculates Back Into Space
Plug and Play, Portable
120/1 6' Cord and Plug Set, 374 Watts (International Voltages and Plugs available) 100- 130V, 200-240V, 50/60 Hz
Clean Air Delivery Rate Up – 300 CFM (141.6 l/s), 500 CFM (235.9 l/s) 700 CFM (330.4 l/s)

For example, a typical conference room of 10 students will have a ventilation rate1,2 of 150 cfm. (10 cfm of outside air per student) Adding 650 cfm of clean disinfected air will reduce the probability of airborne infection by 3.6 times3Other infection probability rates can be calculated by application and occupancy

Annual Replacement of UV Bulbs is Recommended.
UV Resistant MERV 13 Air Filters

White Standard Filters with 9" Radiance Factor
Pink Optional Filter for 6" Radiance Factor

Controls Interface – Touch Screen HMI
Steel Construction with Baked Powder Coat Finish and floor mount with leveling feet
(optional wheelbase is available)
Color may be Black (color code 80020) or White (color code 9010)
• On/Off capabilities on a mobile device
1Based on measured UV dosage and reported deactivation rate for Corona-type virus  k = 0.0038 cm2/µJ)
2Per ANSI/ASHRAE Standard 62.1-2019
3Based on the Wells-Riley risk model associated with the airborne transmission of  respiratory diseases
Click to watch a short video explaining the Halton Sentinel Unit
Need more information?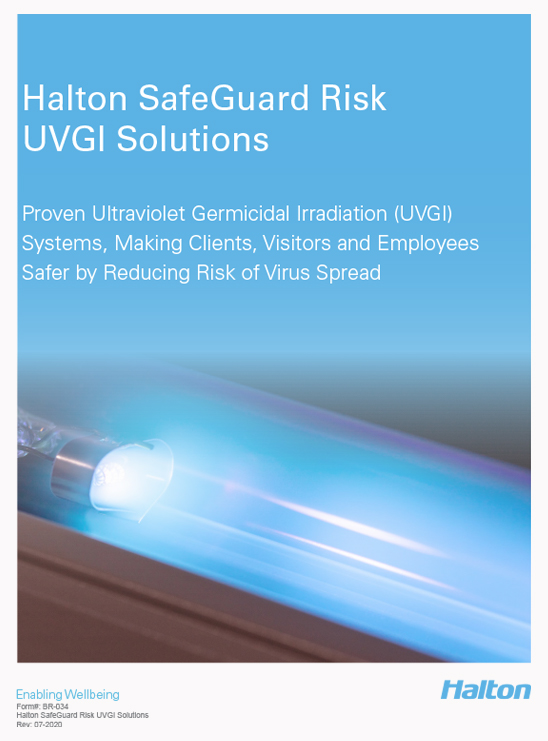 View Halton's SafeGuard Risk UVGI Solutions Brochure
Specification
Provide a Halton Sentinel Ultraviolet Germicidal Irradiation filter unit. The unit exterior shall be constructed of stainless steel and provided with 29% open perforated expanded metal.
The interior of the unit shall be constructed of aluminized steel for corrosion protection. The unit will come complete with disposable MERV 13 filters.
The unit shall be equipped with 2 UVGI tubes rated at 13,000 hours and 254nm. UV-C bulbs outside of the 254nm range or producing ozone are expressly prohibited.
The unit requires a 120/1 outlet, 15 amp circuit. The unit is built to UL standards.
Dimensions
The weight of each UVGI-SA-W unit is 121lbs (55kg)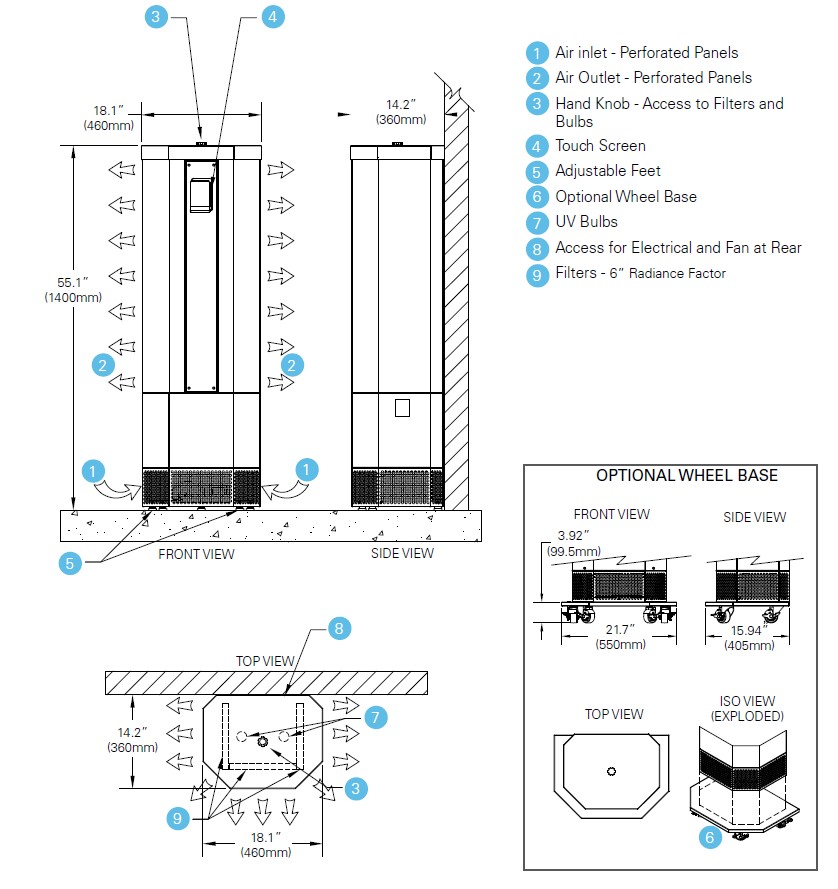 3rd Party Testing Report

Testing was conducted at LMS Technologies to determine the single-pass removal efficiency and microbial properties of the Halton Mobile unit when exposed to surrogate pathogens Serratia marcescens and MS-2 bacteriophage. This data was compared to previous models completed by the Foodservice Research team
in Scottsville.
Testing was conducted at 975 CFM which aligns with the recommended operating point. The device contained two UV lamps and a series of MERV 13 filters to remove pathogens.
Free download (PDF)
Halton Sentinel 3rd Party Testing Report