Optional feature, the Extreme Conditions Solution (ECS)
When intake air is crucial during extreme icing conditions, the Halton Extreme Condition Solution (ECS) keeps the air intake open. The Halton ECS combines the DSA heated droplet separators with either shut-off or fire dampers with an additional option for filter units.
The solution can allow one or more separators to remain open and ice-free while the other separator is in defrost mode during critical atmospheric conditions.
This is achieved by shutting-off a section of the DSA to allow the ice build-up to melt.
There are a few control methods available to alternate the opening/closing sequence of the ECS to ensure a free flow of unrestricted air.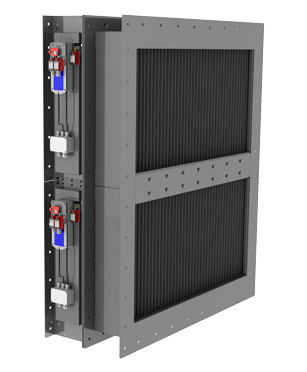 Optional feature, reducing the wind effect
Strong wind can adversely affect the performance of the droplet sepator. In environments where stormy weather is regular Halton recommends using a "gooseneck" air intake with droplet separators. A gooseneck can be installed directly to a duct installation type of droplet separator.

Optional features, filters
Please note: filters installed in DSA require always a separate frame.
ISO Coarse 70% filter
Panel filters are manufactured of progressive thermally smoothened synthetic polyester having high dust holding capacity and constancy for humidity. The filters are used in general ventilation system for air purification.
ePM10 70%, ePM2,5 65%, ePM1 50% Bag filters
The materials of the synthetic fine filters are high-quality and durable, progressive mounted synthetic fibres. The filters can be used in example for air purification of intake air.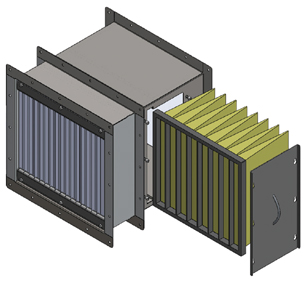 ATEX approved filters
Halton Marine also offers ATEX approved filters for droplet separators.
Optional feature, installation in conjunction with damper
Halton droplet separator can be connected to a Halton Marine damper with or without a connection piece. In both cases the construction is modified to fit the damper. Connecting DSH together with a fire damper must be mentioned when ordering products. Special flanges and drilling patterns are available for all models on request. The structural flexibility of dampers and high-quality combined with a wide range of accessories (ex-actuators) and special steels, enable Halton Marine to offer tailored solutions for its customers.
Combining Halton Marine droplet separator to damper offers customers a compact solution for air intake that also saves space. The products are recommended to be connected together at Halton Marine factory.
Optional feature, weather tight hatch
Weather tight hatch (WTH) is used e.g. to shut down the intake close to the waterline in the event of rough seas. See a separate brochure on weather tight hatch called Halton WTH.