概览
适用于送风或排风
墙壁或天花板安装
可调节气流
可以测量风量
降低管道噪声
气流组织可以定向到一个方向
无需安装框架直接安装到管道系统或使用单独的安装框架。
产品选型和附件
带安装框架的选型
保护圈,防止表面沾污
用于拆卸阀门的延申件
Quick selection

Fig.1. Halton ULA, radial jet

Fig.2. Halton ULA, exhaust
Dimensions and weight
| | | |
| --- | --- | --- |
| NS | ØW | ØW1 |
| 100 | 140 | 133 |
| 125 | 165 | 155 |
| 160 | 200 | 189 |
| 200 | 251 | 240 |
Weight
| | |
| --- | --- |
| NS | kg |
| 100 | 0.4 |
| 125 | 0.5 |
| 160 | 0.6 |
| 200 | 0.9 |
Material
Part
Material
Note
Collar
Steel
–
Front panel
Steel
–
Attenuation panel
Polyethylene
–
Sector plate
Polyethylene
–
Gasket
Polyurethane
–
Finishing
Painted, white
(RAL 9003 / 30%)
Special colour available
Accessories
Accessory
Code
Description
Protection ring
CS
For protection of the surfaces from
smudging and for directing the air jet
in a grid-structured ceiling
Extension part
EP
Extension part for detaching the
valve from the surface/
standard height 50 mm
Installation frame
LF
Installation frame without gasket/
height 50 mm
Installation frame
GF
Installation frame with gasket/
height 50 mm
Installation frame
DF
Installation frame with duct
dimensions can be installed directly to duct
parts such as bending or T-branch etc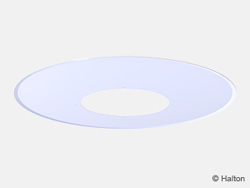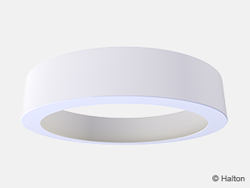 Fig.1. Cover plate (CS)                                 Fig.2. Extension part (EP)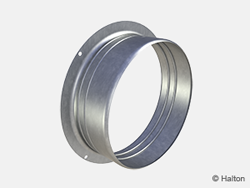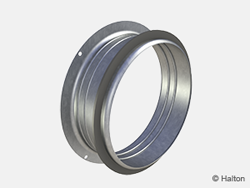 Fig.3. Installation frame (LF)                          Fig.4. Installation frame (GF)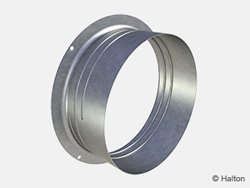 Fig.5. Installation frame (DF)
Function


                            Supply                                                   Exhaust
In supply air application in the desired flow pattern is directed using an internal sector plate.
Pressure loss and airflow rate are dependent on both the flow pattern adjustment and position of the front panel.
The valve attenuates duct noise.
The desired pressure loss and airflow rate can be adjusted in an exhaust air application, by removing the sector plate and adjusting the front panel position.
Installation
The collar of Halton ULA is installed either directly into the end of a duct with fixing springs or alternatively with the aid of a separate installation frame (LF, GF or DF).
The supply air valve can be installed in contact with the ceiling or wall surface, with or without a protection ring (CS), or with an extension part (EP).
Protection ring (CS)
The CS protection ring protects the surface from smudging and can also be used for directing the air jet in an open grid-structured ceiling installation.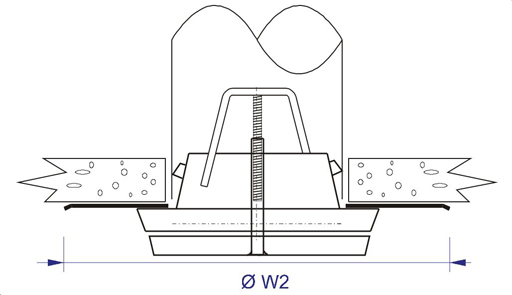 | | |
| --- | --- |
| NS | Ø W2 |
| 100 | 290 |
| 125 | 315 |
| 160 | 350 |
| 200 | 400 |
Extension part (EP)
The EP extension part allows the valve to be suspended from the ceiling surface, allowing the supply air jet to be directed clear of a nearby obstacle.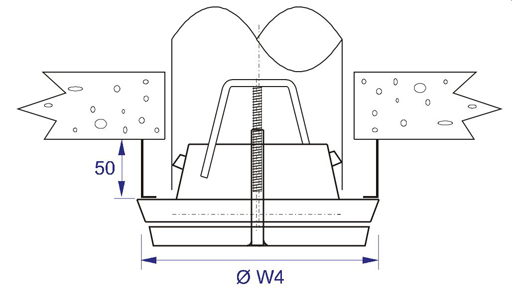 | | |
| --- | --- |
| NS | Ø W4 |
| 100 | 150 |
| 125 | 175 |
| 160 | 210 |
| 200 | 260 |
Installation hole in hollow core slabs
| | |
| --- | --- |
| NS | Ø W3 |
| 100 | 96-101 |
| 125 | 121-126 |
| 160 | 155-161 |
| 200 | 195-201 |
Adjustment
In the supply application the sector plate is positioned prior to airflow direction. In an exhaust application the sector plate is not used, yet the spring shall be conserved.
The Halton ULA valve is adjusted by rotating the front panel. Measure the opening (A) position (in mm) of the front panel.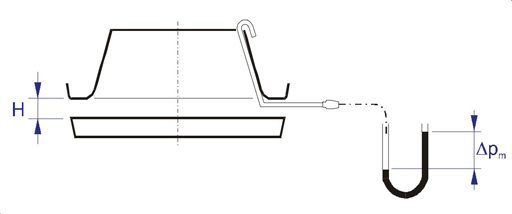 Set a probe inside the valve and measure the differential pressure with a manometer. The airflow rate is calculated using the formula below.
After adjustment, lock the front panel with the locking nut.
Servicing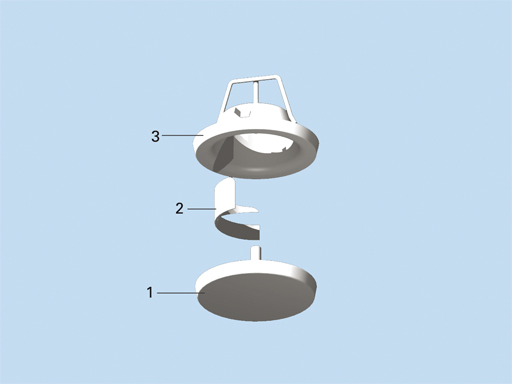 Code description
1.   Front panel
2.   Sector plate
3.   Collar
Loosen the valve from duckwork and unscrew the front panel (1) from the collar (3) for cleaning. Remove the sector plate (2) by pulling gently to detach the spring. Clean the components with a damp cloth, instead of immersing in water. Reassemble in reverse order after cleaning.
Specification
The supply and exhaust valve shall have a detachable front panel and collar made of painted steel, with a white (RAL 9003/30%) standard colour.
The collar shall have fixing springs and comprise a sealing gasket to be fixed directly to the duct.
The front panel shall have a sound attenuation panel to reduce duct noise.
When used for supply, the desired flow pattern shall be adjusted by rotating the front panel and using the internal sector plate (180° or 360°).
Order code
ULA/S-D; CO-ZT
S = Model
N     With fastening springs (standard)
A     For installation with a separate frame
D = Duct connection size (mm)
100, 125, 160, 200
Other options and accessories
CO = Colour
SW    Signal white (RAL 9003)
X        Special colour (RAL xxxx)
ZT  = Tailored poduct
N         No
Y         Yes (ETO)
Sub products
CS     Cover plate
EP     Extension part
LF     Installation frame without a gasket
GF     Installation frame with a gasket
DF     Installation frame for duct parts
Code example
ULA/N-100, CO=SW, ZT=N