UVGI-SA-W – Halton Sentinel Wall-Mounted Filtration Unit (CE)
Wall-mounted air purifiers with UVGI technology (Ultraviolet Germicidal Irradiation)
CE Marked (UKCA pending) – The Halton Sentinel™ Unit belongs to Halton Safeguard Risk solutions for the fight against virus and bacteria spread and transmission. They directly contribute to the safety of indoor environments occupants, whether customers, guests or employee.
Overview
Equipped with UVGI technology (Ultraviolet Germicidal Irradiation), the Halton Sentinel™ air purifiers specifically address the risk of disease transmission by respiratory ways by neutralizing in a very efficient way the airborne pathogen agents.
The large treatment capacity of Halton Sentinel™ purifiers represents an important flow rate of a clean air equivalent which ads to the fresh air brought from outside by the ventilation. The result is a great reduction of the infection probability of occupants in good health by others who may be sick.
Halton Sentinel™ air purifiers strengthen the occupants protection resulting from the stronger sanitary measures adopted during sensible periods such as mask wearing, social distancing, hands and surfaces disinfection etc.
Tested by en independent laboratory, Halton Sentinel™ air purifiers are a cost effective solution to make indoor environments safe for all occupants.
Tested by an independent laboratory.
Very efficiently neutralizes the airborne pathogen agents.
High recirculating capacity with up to 1190 m³/h treated air.
Important clean air equivalent after treatment (CADR Clean Air Delivery Rate).
Important reduction of the airborne infection probability in indoor environments.
13000 hours lifetime for the UV-C tubes (4,5 years use at 8 hours a day).
High efficiency UV resistant fiber glass MERV 13 filters (EN ISO 16890, ePM1 50-70%, ePM2.5 >65%).
Purifier's radiance factor: 152 mm.
Filters replacement every 6 months or every 1200 hours.
Filters constantly exposed to the UV-C for a safe maintenance without contamination risk.
Very low operating and maintenance costs.
Control by LCD touch screen.
Possibility of distant control (on, off, speed) by Bluetooth connection from the myPersonify app (iOS and Android).
Steel construction with baked Powder coat finish.
Plug and play, 230 V/60 Hz, 374 W, delivered with plug and cord.
Available in black or white.
Halton Sentinel™ greatly reduce the probability of airborne infection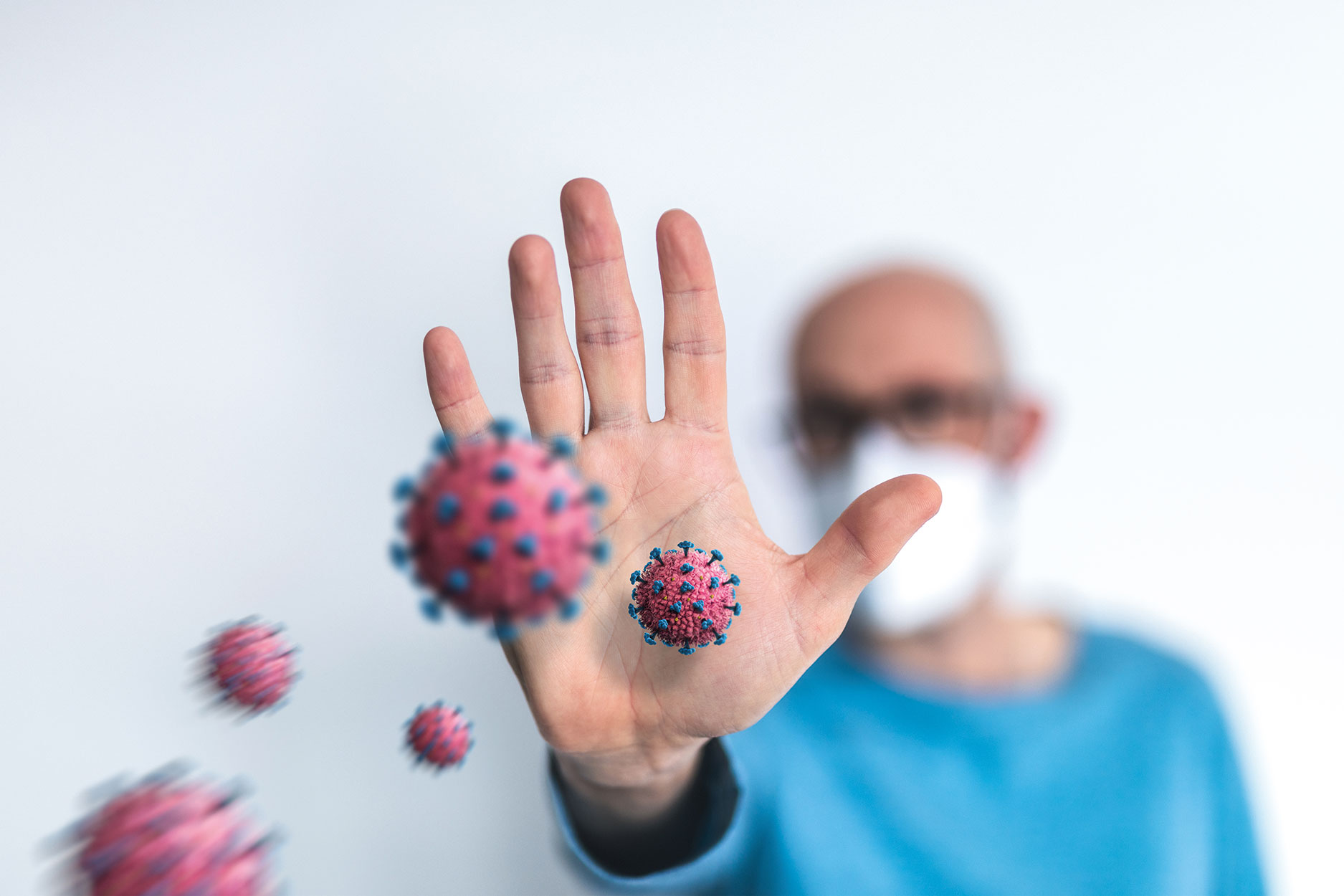 Example of a restaurant with a capacity of 30 seats and a ventilation rate of 22 m³/h/person. The Halton Sentinel™ air purifier it is equipped with treats and recirculates 1700 m³/h of clean and disinfected air. The airborne infection probability is then reduced by 3.0 times*.
Example of a classroom with a capacity of 18 students and a ventilation rate of 15 m³/h/person. The Halton Sentinel™ air purifier it is equipped with treats and recirculates 850 m³/h of clean and disinfected air. The airborne infection probability is then reduced by 3.2 times*.
* Based on Wells-Riley risk model associated with airborne transmission of respiratory diseases and on efficiency tests carried out by an independent laboratory on the Halton Sentinel™ air purifiers. Probability for the reported deactivation rate for Corona-type virus k=0.00377 cm²/μJ and for a 20 mn exposure to an infected person in the group.
About Halton UVGI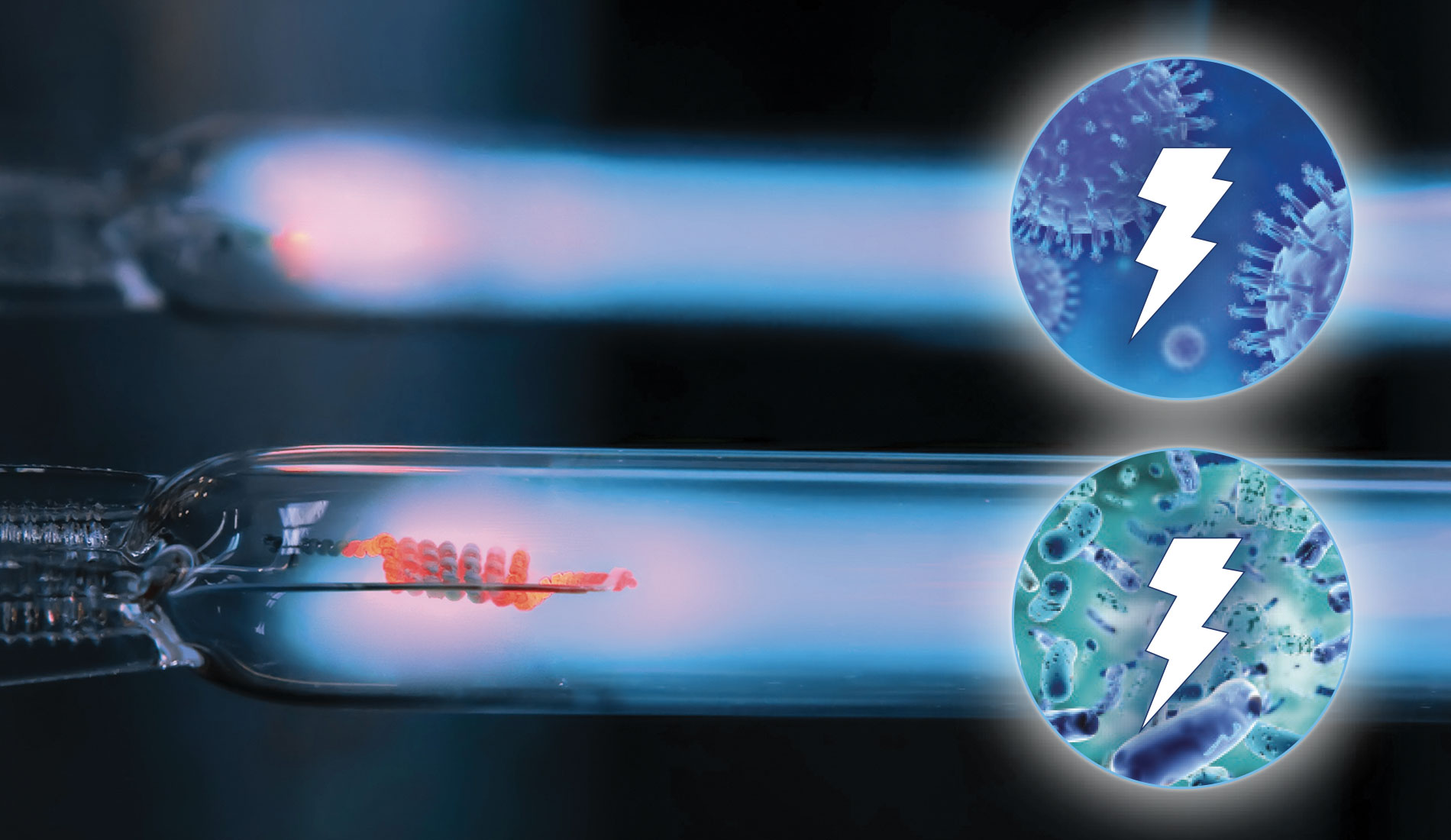 Halton UVGI (Ultraviolet Germicidal Irradiation) adds a layer of protection against virus spread.
The Ultraviolet Germicidal light has been proven to rearrange the genetic information of the viruses (including COVID-19), bacteria, fungi, algae and protozoa when it penetrates through the cells and is absorbed by the DNA.
These lesions interfere with the cell's ability to reproduce. A cell that cannot reproduce is considered dead as it is unable to multiply to infectious numbers.
Combined with other mitigation practices such as masks, social distancing, and hand sanitizing, they efficiently reduce the probability of infection in confined areas.
3rd Party Testing Report

Testing was conducted at LMS Technologies to determine the single-pass removal efficiency and microbial properties of the Halton Sentinel air purifiers when exposed to surrogate pathogens Serratia marcescens and MS-2 bacteriophage.
This data was compared to previous models completed by the Foodservice R&D.
Free download (PDF)
Features and dimensions
Features

*MERV 13 (ASHRAE 52.2)
Equal F7 (EN779
Equal ePM1 50-65% / ISO ePM2,5 65-80% / ISO ePM10 >85% (ISO 16890)
Dimensions
01 – Air inlet – Perforated panel
02 – Air outlet – Perforated panel
03 – Touch Screen and power indication light
04 – UVGI bulbs
05 – Filters
06 – Access for electrical and fan at rear
07 – Optional wheels for UVGI-SA-W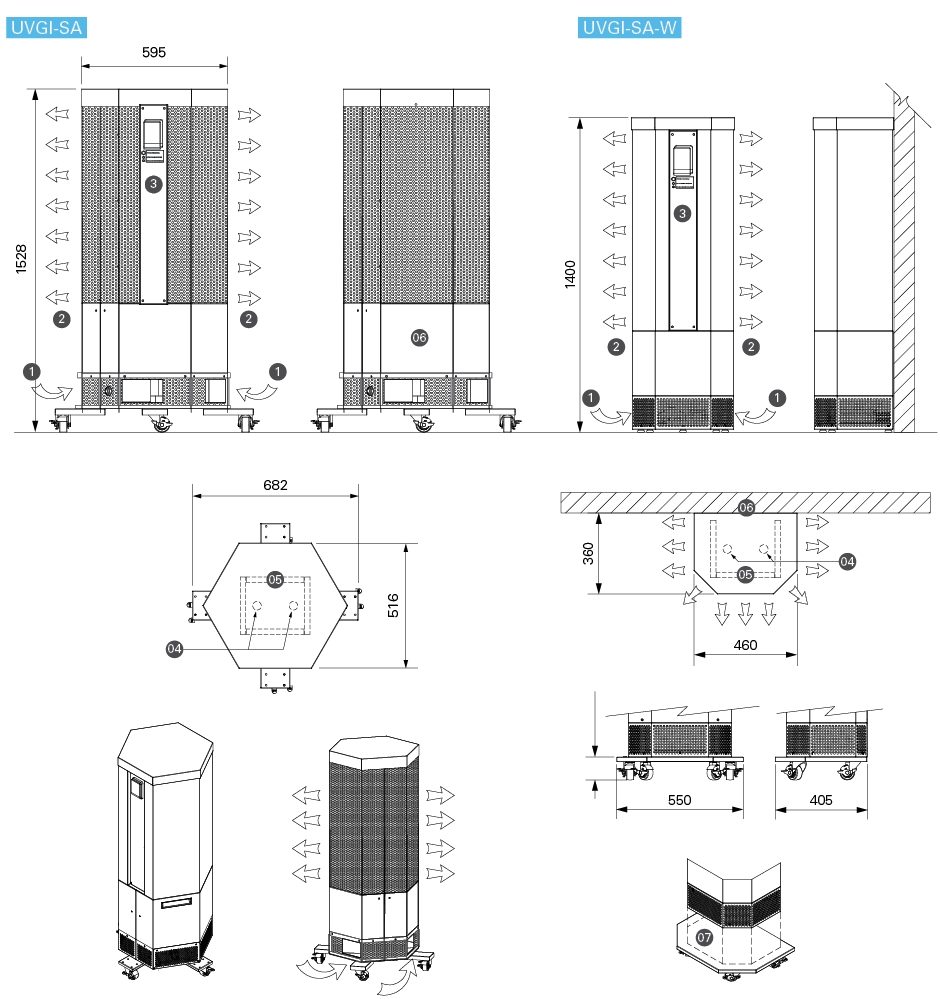 Specification
Suggested specifications
The air purifiers shall be Halton Brand, UVGI range. The UVGI-SA purifier is mobile whilst UVGI-SA-W model is designed for wall installation.
The model and number of purifiers shall be determined based on the manufacturers recommendations, depending on the regulatory minimum ventilation rates, the treatment capacity of the purifiers and the infection probability's reduction required by the local authorities or the end users.
The purifiers shall be plug and play and the following specifications shall be fully observed.
• The air purifiers shall be equipped with UV-C tubes of UVGI type (UV Germicidal Irradiation) with an irradiation peak at 254 nm. UV-C tubes outside of the 254 nm range or producing ozone are expressly prohibited. Their lifetime shall be at least 13,000 hours.
• The action of the UV-C tubes shall be supplemented by disposable fine filters MERV 13 made of fiberglass (EN ISO 16890, ePM1 50-70%, ePM2.5 >65%) whose role is to efficiently capture the aerosols and bioaerosols.
• All filters surface shall be exposed to the UV-C irradiation for an efficient neutralisation of the bacteria and viruses which adhere to the aerosols to form the bioaerosols. The filters replacement is at the same time safer.
• The unit exterior shall be constructed of stainless steel. It shall be partially perforated at 29% for a low velocity discharge of the purified air in the room.
• The interior of the unit shall be constructed of aluminized steel for corrosion protection.
• The air purifier shall be equipped with a LCD touch screen to switch it on or off and to select the operating speed. The touch Screen shall enable the purifier's control with mobile devices via a bluetooth connection.