概览
安装在吊顶上的被动式冷梁
安装在网眼或穿孔吊顶的上方
工作状态安静
无运动部件
对于要求高冷负荷、低度负荷和低通风的空间而言,是最佳选择
对于要求高品质环境条件和独立房间控制的各种建筑而言,是理想选择
典型应用环境:办公室、会议室和零售商店
装置的三种不同高度可满足不同的制冷能力要求

Halton专注于提供定制产品以满足项目的特殊要求。可提供特殊尺寸和不同种类的集成设计方案。
Dimensions and weight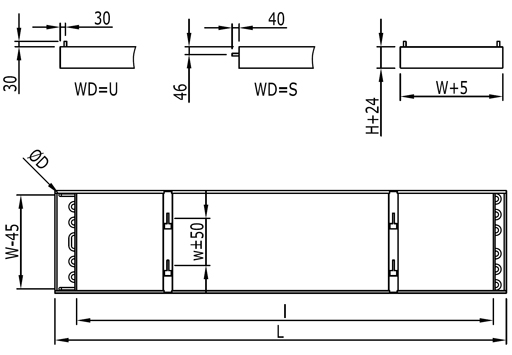 WD = Location of pipe connections
           U    Front end
           S    On top
 
| | | | | | |
| --- | --- | --- | --- | --- | --- |
| W | H | w | L | l (without valves) | l (with valves) |
| 315 | 100 | 136 | 1200-5000 | L-200 | L-300 |
| 450 | 100 | 204 | 1200-5000 | L-200 | L-300 |
| 585 | 100 | 271 | 1200-5000 | L-200 | L-300 |
| 315 | 200 | 136 | 1200-5000 | L-200 | L-300 |
| 450 | 200 | 204 | 1200-5000 | L-200 | L-300 |
| 585 | 200 | 271 | 1200-5000 | L-200 | L-300 |
| 315 | 300 | 136 | 1200-5000 | L-200 | L-300 |
| 450 | 300 | 204 | 1200-5000 | L-200 | L-300 |
| 585 | 300 | 271 | 1200-5000 | L-200 | L-300  |
A coil with 1 loop has a connection pipe ØD 15 mm and 2 loops has a connection pipe ØD 22 mm.  
 

Fig.1.  Optionality factory-fitted valve 
Weights kg/m (including water)
| | |
| --- | --- |
| Width (mm) | Heigth (100-300) |
| 315 | 8,3 (8,5) |
| 450 | 10.8 (11.9) |
| 585 | 12.7 (14.1) |
Due to fabric skirts the weight difference between different heights is not remarcable. 
Material
| | | |
| --- | --- | --- |
|  Part |  Material |  Note |
|  Side panels |  Sheet metal |  Unpainted |
|  Cooling pipes |  Copper |  Diameter 15 mm |
|  Cooling fins |  Aluminium |   |
|  Skirt textile |  Fireproof polyester |  Fulfils PES FR |
Accessories
| | | |
| --- | --- | --- |
|  Accessory | Code |  Note |
|  Pipe connection, straight in the end | WD=S |   |
|  Pipe connection, at the top | WD=U |   |
|  Factory-fitted control valve | CV = |  See Product Code page |
Other options by requesting Halton customer service.
Function
The beam operates by natural convection, removing the heat load from the room and replacing it with a cooling airflow. The convective airflow (output) increases or decreases in proportion with the heat load within the occupied zone, securing an optimal thermal comfort.
Varying sensible cooling output requirements are met by regulating the flow of chilled water through the beam heat exchanger. This is controlled by a combination of room thermostat and water valve. Operating at elevated chilled water temperatures (to avoid latent cooling), the opportunities for free-cooling are significant.
Halton CPT can be supplied with skirts where are 3 different heights to meet cooling capacity requirements.
Installation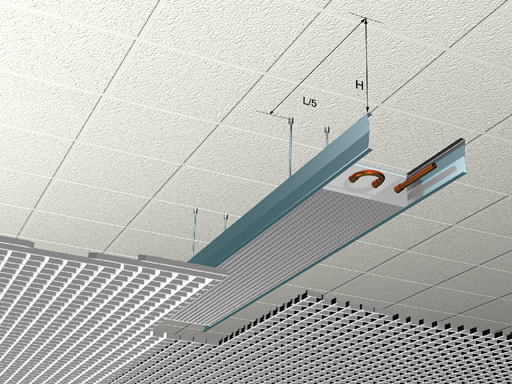 The chilled beam Halton CPT is installed above an open grid or perforated ceiling.
In order to ensure effective convection, the beam should be mounted at a minimum distance from the ceiling equal to 0.25 x the width of the beam, when installed away from wall surfaces, or 0.5 x beam width when installed close to partition walls.
Each chilled beam is fixed to the ceiling with expansion anchors and threaded drop rods (not included in the delivery). Four assembly brackets are fixed one fifth of the unit length (L/5) away from the end of the beam. There will be six assembly brackets with beam length ³ 3500.
The exact positions of the brackets are adjusted according to the rod position.
The chilled beam position can be easily adjusted both horizontally and vertically. Assembly brackets are supplied as standard in the package.
The contractor shall supply threaded rods and expansion anchors.
 
Distance between suspension rods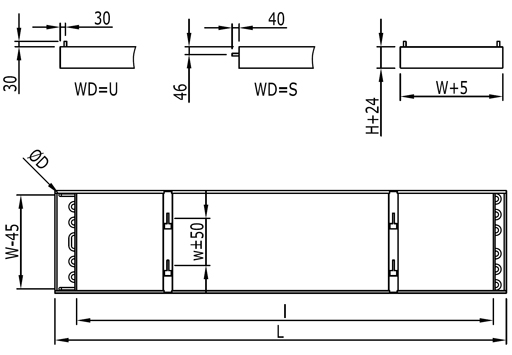 Distance from the ceiling

D = distance wall; up to 1 x W
Adjustment
Commissioning of the chilled beam system is carried out following standard practice:
Fill up and flush the main pipelines
Fill up and vent the beam circuits
Adjust the flow water temperature set point
Adjust the water flow rates with the balancing valves for all main pipelines
Adjust the water flow rates in all chilled beams to correct values.
Servicing
The Halton CPT chilled beam requires little maintenance.
It may be necessary to clean the cooling coils in every three to five years, depending on room conditions and air quality. The cooling coils can normally be cleaned using a vacuum cleaner.
Specification
Output/capacity     90 – 550 W/m
Length                  1000, +100, .., 5000 mm
Width                    315, 450 and 585 mm
The heat exchanger is constructed from aluminium fins and copper pipes with a nominal outside diameter of 15 mm.
The maximum chilled water pipe work operating pressure is 1.0 MPa. All joints are fully soldered and factory pressure tested.
 
Order Code
CPT-L-W-NW-H;CO-WD-CV-ZT
L = Length
       1200,+100,…, 5000
W = Width
         315, 450, 585
NW = Number of water loops
          1, 2
H = Height
      100, 200, 300
 
Other Options and Accessories
CO = Colour 
          N        No painting
          B        Black (RAL 9005, 20%)
WD = Location of pipe connection
          S        Front end
          U        On top
CV = Control valve
          N         No
          A1       Adjust. kv value, factory mounted, no actuator
          A3       Adjust. kv value, factory mounted, 24-V actuator
          A5       Adjust. kv value, factory mounted, 230-V actuator
          A7       Constant-flow-mounted, no actuator
          A9       Constant-flow-mounted, 24-V actuator
          A11     Constant-flow-mounted,  230-V actuator
ZT = Tailored product
          N         No
          Y         Yes
 
Code example
          CPT-2200-585-1-100, CO=N, WD=S, CV=N, ZT=N