Overview
One CCW-M control cabinet manages up to 16 hoods
Designed and manufactured according to USPHS guidelines
Specification
The CCW-M control cabinet has been designed to manage the washing cycles of the hoods equipped with the water wash technology, whether they are combined or not with other technologies like UV-light system or M.A.R.V.E.L..
Each CCW-M control cabinet must be connected to a hot water supply. It is equipped with a detergent tank, connected to an automatic dosing system. The high dosing precision eliminates all risk of overdosing, thus contributing to a better environment. The control cabinet is equipped with a booster pump if the water pressure is not enough to ensure a good washing efficiency.
An LCD touch screen allows an intuitive and efficient interface between the control system and the users. The washing cycles (washing, soaking time and rinsing sequences) are fully automatic and programmable to suit different operating conditions. The washing process can be manually overridden when required. The control system is equipped with the possibility to interface with a Building Management System (BMS).
Dimensions
CCW-M general Control Cabinet Drawings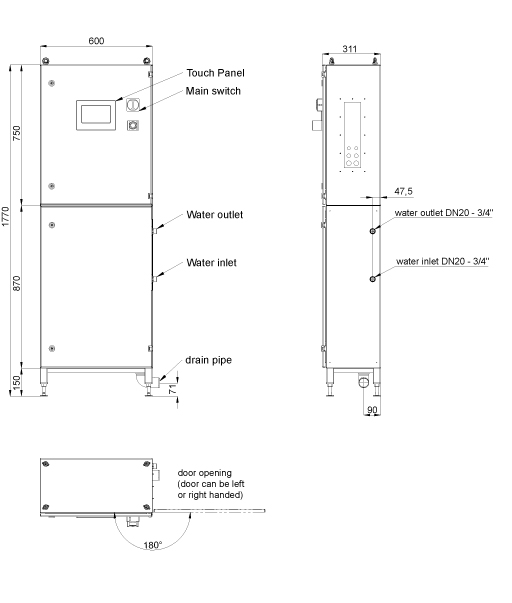 Material
| | | |
| --- | --- | --- |
| PART | MATERIAL | NOTE |
| Main body | Stainless steel EN 1.4301 (AISI304)* | Option: EN 1.4404 (AISI316L) |
| Connection pipes | Stainless steel | |
| Booster pump | Painted steel | 1-phase, 230 VAC |
| Soap pump | Plastics | 1-phase, 230 VAC |
*) Thickness 1,5 mm
Product options
Stainless steel EN 1.4404
Electrical and water connections lefthand side
Function

Supply water enters the water wash cabinet.
A booster pump (optional) is used to increase water pressure.
Detergent pump adds detergent to the water.
Electromagnetic valves control the mixture of detergent and water to the hoods.
Water outlet to connect washing pipes to hoods.
PLC based control system for controlling each function.
Halton Touch Panel
The touch panel provides an easy to use interface for operating the hood and selected technologies like UV-light technology, water wash system and demand controlled ventilation (M.A.R.V.E.L.). The touch panel displays individual hoods with clear images allowing the potential alarms or hood statuses to be displayed visually. The touch panel will be located on the door of the control cabinet or in a separate control box with available interface to the ships' automation system.
Connections to ship systems

Supply connection requirements
Water supply:
Temperature recommendation 45-55 ºC
Pressure minimum 1 bar
Hardness < 8dH
Power supply:
1.5 kW @ 230V / 50 Hz / 60 Hz