Overview
Compact design
Fully automatic control system
All control devices locate on the cabinet door
Designed for galley conditions
Stainless steel
Controls 1 – 7 hood groups
Designed and manufactured according to USPHS guidelines
Specification
Halton WR water wash control cabinets are used to control the washing cycle of Halton galley hoods KWH and KWT. Water wash control cabinet automatically washes down the grease filters and UV-lamps (when equipped with UV-technology) without removal of the filters and UV-lamps of the hood. The washing cycle is fully automatic and programmable for use in different operation conditions. The washing process can be manually overridden, when required.
Dimensions and Weight
General WR control cabinet drawings
Construction
The control cabinet comprises main body, washing pipes, enclosure, booster and detergent pumps. All parts of the main body are manufactured from polished stainless steel EN 1.4301 (AISI304). Control interface is located on the cabinet door.
Weight
WR control cabinet weights 75 – 88 kg depending on the model.
Material
| | | |
| --- | --- | --- |
| PART | MATERIAL | NOTE |
| Main body | Stainless steel EN 1.4301 (AISI304)* | Option: EN 1.4404 (AISI316L) |
| Connection pipes | Copper |  – |
| Enclosures | Plastics | – |
| Booster pump | Painted steel | 1-phase, 230 VAC |
| Soap pump | Plastics | 1-phase, 230 VAC |
*) Thickness 1,25 mm
Product options
Stainless steel EN 1.4404 (AISI316L)
Operating frequency of 50 Hz or 60 Hz
UV-light technology control system
Fan control switch (ON/OFF)
Function
Supply water enters the water wash cabinet
A booster pump is used if higher water pressure is needed
Detergent pump adds detergent to the water
Electromagnetic valves control the mixture of detergent and water to the hoods
Maximum of 7 water outlets are included in each cabinet, capable to wash up to 5 meters of filter length per outlet.
PLC based control system for controlling each function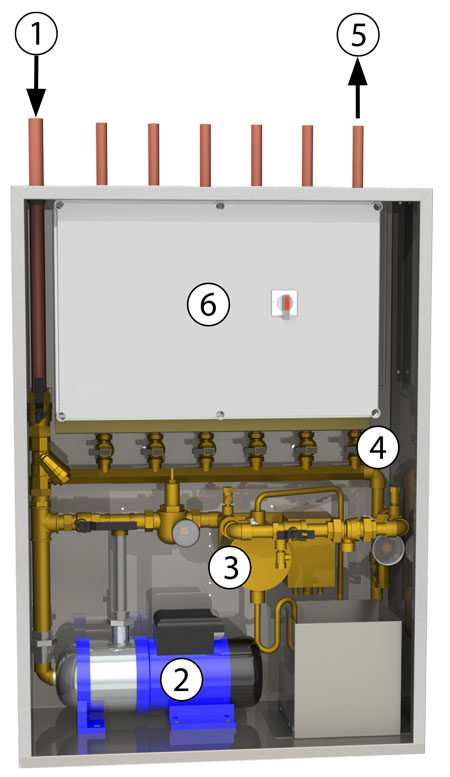 Supply connection requirements
Water supply:
MIN TEMP. 50°C
MAX TEMP. 60°C
Power supply:
230VAC 50/60Hz 10A service
Connection to ship system
Connections to ship systems