Suggested specification
General
The water wash galley hoods shall be constructed from stainless steel EN 1.4301 (AISI304). The galley hoods shall be supplied complete with outer casing / main body, capture jet plenum, airflow measurement taps, supply and exhaust air spigot connections with adjustment damper, maintenance hatch, light fixture, capture air jet, grease filters, drain connection, automatic washing system controlled by separate control cabinet with interfaces to ships safety systems. Classified fire damper in each exhaust connection. The manufacture of all galley hoods shall be controlled by ISO 3834-2:2005, ISO 9001, 14001 and OHSAS 18001 standards. The design of hoods shall follow USPHS guidelines.
Construction
All parts shall be constructed of stainless steel sheet EN 1.4301 (AISI304) (thickness 1.25-2.0mm) with a polished finish. The inside corners of the hood are rounded for easy cleanability according to USPHS guidelines. The joints at the lower edges of the device are welded watertight. All visible screws are thumb screw type. The hood is equipped with a drain connection for removing the dirty water. There is a maintenance hatch in each hood for easy access above the hood.
Washing module
Grease filters shall have an automatic washing cycle utilising warm water and detergent via nozzles. The mixing of the detergent occurs within a separate control cabinet. The wastewater shall be removed from the hood by a direct drain connection. The casing of the control cabinet shall be constructed of stainless steel sheet EN 1.4301 (AISI304).
Capture Jet™ plenum
The Capture JetTM plenum shall be insulated with mineral wool. Plenum can be accessed through a maintenance hatch(es).
Capture Jet™ system
The hood shall be designed with Capture JetTM air technology to reduce the exhaust airflow rate required and increase the capture and containment efficiencies of the hood, while reducing energy use.
Airflow measurement taps
Measurement taps shall be located on top of the hood for capture air and exhaust air measurement.
Demand based filtration
Halton KSA filter
Minimisation of grease deposits in the ducts
Enhanced hygiene and safety
The KSA grease filters shall be constructed of stainless steel EN 1.4301 (AISI304). The grease filters shall be supplied in modular size of 500x330x50 mm and shall be removable via two folding handles. The grease filters shall have a honeycomb design in order to allow high grease filtration efficiency with the aid of centrifugal effect in filter honeycombs.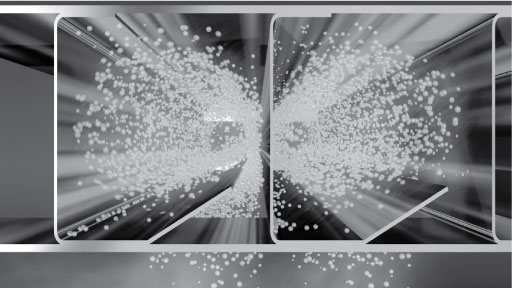 Mechanical filtration is recommended to be used in hoods with low utilization rate and cooking process producing mainly large grease particles (> 8 microns), e.g. food prepared with gas fryers, griddles and broilers (source ASHRAE).
UV-light filtration
Halton's UV-light technology is the most efficient solution for hoods with medium to high utilization rate and cooking processes producing all sizes of grease particles, e.g. food prepared with electric ranges, griddles and all type of broilers. In the UV-light concept, most of the grease particles are first filtered with mechanical filtration (type KSA). The mesh filter behind the KSA spreads the airflow and the remaining grease particles inside the hood chamber. This increases filtration efficiency up to 50% with grease particles sizes between 5-8 microns. Based on Halton's patented highly efficiency Capture JetTM solution and advanced mechanical KSA filter technology, the UV-light technology with scheduled maintenance keeps the plenum and duct virtually grease-free and mitigates the cooking odor and emissions.
The grease vapor and effluents that are not collected by high-efficiency filters pass over the lamps. This causes a chemical reaction that destroys the grease and converts it into carbon dioxide and water vapor. The chemical action carries over into the duct and helps keep the duct and exhaust fan clean.
Duct connections
The duct connections and adjustment dampers for supply and exhaust air shall be constructed from stainless steel.The dampers shall be adjustable.
Light fixtures
Each canopy shall be delivered with a fluorescent light fixtures or LED light fixtures providing approx. an average illuminance of 500 lux at the work surfaces of the cooking appliances. The light fixtures shall be suitable for a single-phase 230-VAC power supply and shall be manufactured to be of protection class IP67. The ballast and capacitor shall be located within the light frame. The core electric cables connecting the light fixture to the junction box shall be provided.The light fixture shall be installed on a hinged maintenance hatch, allowing access to the hood roof.
Fluorescent light fixture sizes
| | | |
| --- | --- | --- |
| HOOD DIMENSION | LENGTH | WIDTH |
| L < 1250 mm, 2×24 W | 720 mm | 220 mm |
| L > 1250 mm, < 2000 mm, 2×39 W | 1020 mm | 220 mm |
| L > 2000 mm, 2×49 W | 1620 mm | 220 mm |
LED light fixture sizes
| | | |
| --- | --- | --- |
| HOOD DIMENSION | LENGTH | WIDTH |
| L < 1250 mm, 1×28 W | 720 mm | 175 mm |
| L > 1250 mm, < 2000 mm, 1×42 W | 1020 mm | 175 mm |
| L > 2000 mm, 1×69 W | 1620 mm | 175 mm |
Maintenance hatch
Each canopy shall be provided with a maintenance hatch made of stainless steel EN 1.4301 (AISI304) with a shock-resistant plastic window. The heat tolerance of the window shall be up to +115 °C. The hatch shall be easily opened and closed. The maintenance / light fixture hatch is as big as the construction allows.
Airflow measurement

∆Pst = Static pressure loss
∆PTAB = TAB pressure for airflow rate measurement