Halton Vita Lab Solo in Chemical Laboratory in Ningbo, China
Halton Vita Lab controls indoor climate conditions based on demand. Supply airflow follows the exhaust airflow to maintain wanted pressure conditions but also to save energy efficiently.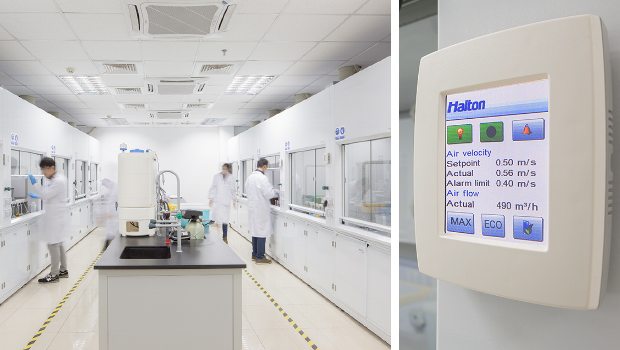 SGS-CSTC Standards Technical Services Co., Ltd Ningbo Branch Chemical Laboratory, China
1/2015
Halton has delivered laboratory solution Halton Vita Lab Solo to chemical laboratory in Ningbo, China. SGS-CSTC Standards Technical Services Co. Ltd. is world's leading integrated inspection, verification, testing and certification authority. The users said that compared to the previous experience of operating environment, utilization of the Halton Vita Lab Solo solution is convenient and intuitive. Easy use of touch screen, and the sound and light alarm systems make users to feel the working environment safe. Halton Vita Lab Solo responses fast and users needn't worry about possible leakages.
For more information
Derek Shen
Sales Manager, SBA Halton China
derek.shen@halton.com
Tel. +86 21 6887 4388