Halton invests in the growth of its factory operations in Germany
Halton's newly refurbished 6,380 m2 factory in the Alpine landscapes of Reit im Winkl intends to increase its output by up to 50 % in the coming years. The expansion of the premises is in response to the factory's increased total sales, which have doubled since 2006. The value of the investment in the premises is €3 million.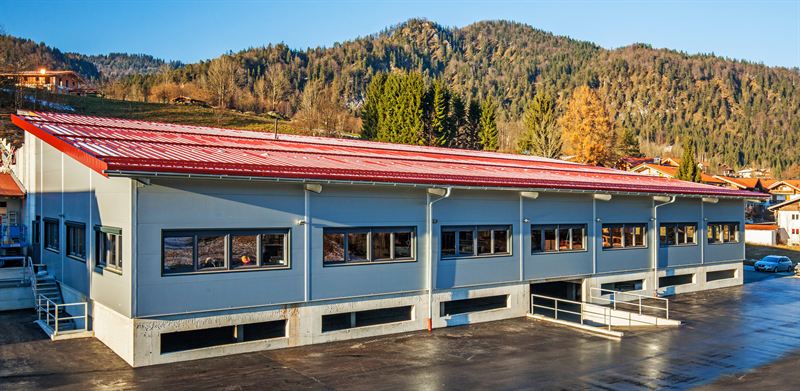 The company will also put effort into making the manufacture of the Halton Skyline, the world's first integrated ventilation and lighting solution for professional kitchens, more efficient.
In designing the new premises, special attention has been paid to the functionality of the production and logistics processes. At the same time, working conditions have been made more ergonomic and now give better support for occupational wellbeing. The expansion of the premises also makes it possible to increase staff numbers by nearly 20% in the future. At the present moment, Halton employs 140 people in Reit im Winkl.
The official opening for the renewed premises is held on 16 November 2017.
"We are delighted with the successful expansion project and the ability of the new premises to meet the growing demand for high-quality professional kitchen environment solutions which support the wellbeing of kitchen staff," says Heinz Ritzer, director of Halton's German business.
"With the unique, German-developed integrated lighting solution for professional kitchens, we are also bringing completely new added value to the precision, safety and natural daily rhythm of the work of kitchen staff," Ritzer says of the Halton Skyline solution, a result of local product development which subsequently generated international demand.
Supporting local strengths and innovation, and expanding internationally are familiar themes in Halton's earlier operations. The company produced ground-breaking solutions such as the Halton MobiChef cooking station, developed in Asia, and the comprehensive Halton Vita solutions, developed in Finland and designed for hospital operating theatres and laboratory environments.
Halton in Reit im Winkl (Halton Foodservice GmbH)
Halton acquired the factory's original business, which was founded in 1968, 2006.
Today, the factory manufactures ventilated ceilings, other indoor air solutions for professional kitchens and integrated lighting solutions for them, both as standardised and bespoke products.
In 2016, 70 % of the factory's production was directed at the German, Austrian and Swiss markets.
The total area of premises: 6,380 m², of which 3,890 m² is new.
Area of production and logistics facilities: 3,535 m², of which 1,694 m² is new.
Reit im Winkl is situated about 100 km from Munich.
Further information
Heinz Ritzer, Director, Halton Germany
Tel. +43 6643946916
heinz.ritzer(at)halton.com