Halton Foodservice launches a kitchen ventilation guide in support of Hospitality Action
Launching at Commercial Kitchen Show 2022 on Wednesday, September 14th in ExCeL, London.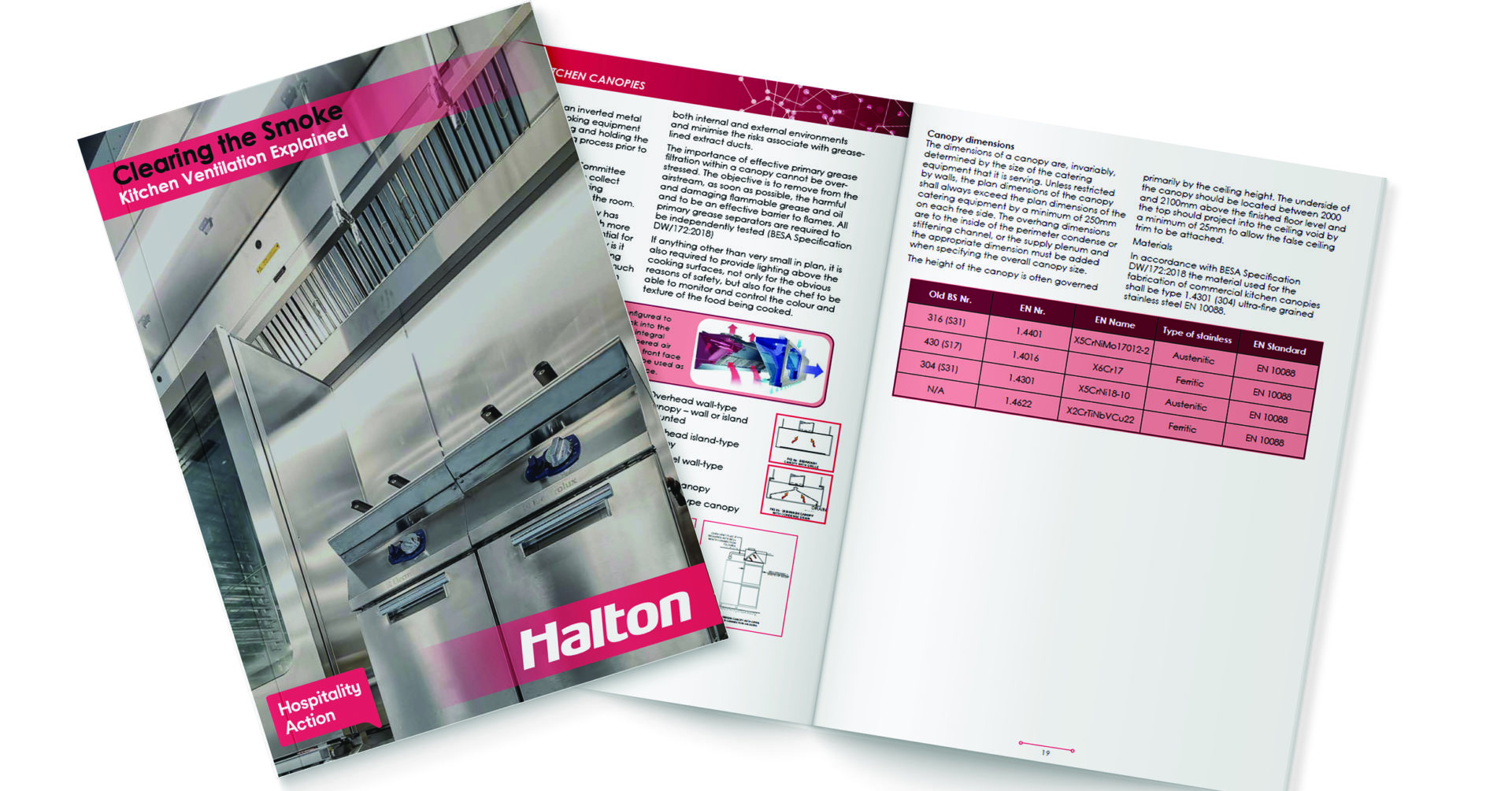 Come and see us at the Ceda /Ceda Bond stand (CK251) during the Commercial Kitchen show in ExCeL, London, and between 16.00 and 17.00 for refreshments on Wednesday, September 14th, 2022, to meet the team.
Halton's Guide to kitchen Ventilation was created during the uncertain times and challenging periods of the 2021 Covid pandemic through the screens of Teams and Zoom meetings! The Hospitality industry was faced with unprecedented restrictions, closures, and changing trading conditions, with the entire country decimated by the pandemic, which prevented operations from opening, leaving many of our colleagues without the opportunity to enjoy the key focus of the Hospitality Industry, The People.
Whilst we did not begin to understand how the closing of Hospitality would affect the social and mental wellbeing of us all, it was clear to see the financial challenges immediately faced by thousands of our friends, family, colleagues, and customers.
This left families without an income, businesses without customers, and ever-increasing levels of stress and worry, through no fault of their own. It was at this point it became apparent to us at Halton that the work Hospitality Action does is invaluable, especially their focus on Mental Health within the Hospitality industry, and if we could do some good with our time during the lockdown, what better way, than to support such a worthy charity which we had previously supported via donations and fundraising events, but wanted to do more.
Our kitchen ventilation guide is designed to offer a simple overview of kitchen ventilation terms and solutions, in a concise format, on the many facets that make up the varied aspects of kitchen ventilation, including some of the different scenarios where pollution control is required. We have tried to cover many of the situations we have come across in our years of experience, as well as offering independent thoughts on the key topics of Fire protection, Energy saving, and Pollution Control. Hopefully, the guide contains something for everyone to enable all to develop their knowledge and understanding whilst raising funds for our friends and colleagues, supported by Hospitality Action.
It has taken a small team of people to put this together, and our thanks go out to all who have supported this; in particular, thanks go to Phil Gibson, who has led our technical discussions.
Comment from Hospitality Action
Hospitality Action is the UK hospitality sector's benevolent charity. Since 1837, we've offered lifelines to people who work or have worked in hospitality and hit a bump in the road. Our services are many and varied, and we support hospitality people at all stages of life. We provide grants to alleviate poverty for people who find themselves in financial crisis. We help people dealing with life-changing medical conditions. We offer counselling, advice, and signposting to people facing mental health challenges or dealing with a relationship issue, bereavement, debt, or addiction. We run an outreach programme to keep loneliness and isolation at bay for industry retirees. And we offer an employee assistance programme, giving specialist advice and support on a range of issues for hospitality employees.
None of this work would possible without the generous support of our wonderful fundraisers and donors. Hospitality Action receives no government funding and many of our traditional revenue streams fell away in 2020, so we have had to reinvent our fundraising model to be able to continue to support one of the UK's hardest-hit sectors.
A link to purchase this guide online will be available soon after the Commercial Kitchen Show!
Acknowledgments
Phil Gibson – Technical Lead Halton
Harry Kotakidis – Friend and Partner
Dave Stewart – Halton
Mark Henderson – Halton
Paul Crumpler – Halton
Dean Griffiths – Halton
Aleksi Halttunen – Halton
Craig Gould – Halton

For more information, contact:
Craig Gould
Sales and Travel Hub Director
Halton Foodservice Limited
11 Laker Road, Airport Industrial Estate, Rochester, Kent. ME1 3QX
Tel: +44 (0) 1634 666111
Mobile: +44 (0) 7807471238
craig.gould@halton.com