The technology developed during the past 15 years has enabled companies to operate in more extreme conditions than ever before. Halton rises to the challenge by offering products and systems that have been designed specifically for demanding conditions of marine environments. Designing and selecting the right equipment should always be based on the operating environment and customer's needs. The production of Halton Marine's products emphasizes tailoring, which means that solutions are adapted for each customer's specific needs.
HVAC can play a vital role in improving safety on board: by providing good thermal conditions and by choosing top-class ventilation fire safety products. Halton Marine is the leader in energy-efficient HVAC solutions for galleys and cabins onboard and the manufacturer of the most widely sold marine fire and gas damper in the world.
Learn more about Halton's passion for Enabling Wellbeing for people from the new brochure "HVAC in Offshore, Ships & Ferries".
View the Russian version of the brochure by clicking the picture below.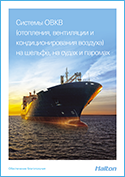 For more information
Salla Ahlberg
Marketing Manager, Halton Marine
salla.ahlberg@halton.com