EX Type Examination Certificate (ATEX) for UTA
Halton UTA gas tight shut-off damper has now received EX Type Examination Certificate for Equipment or Protective Systems Intented for use in Potentially explosive atmospheres, Directive 2014/34/EU.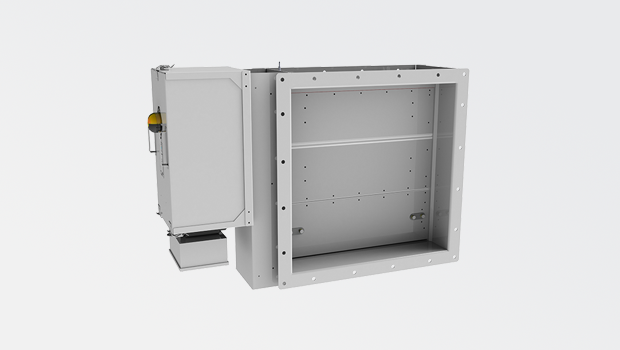 Halton UTA dampers are used to shut-off or regulate airflow in ductwork. Dampers meet international standards for rectangular and round ducts. In the open position, the blades face the direction of flow and do not cause a significant pressure loss. The UTA is used as a shut-off damper in applications where gas tightness and reliability are important. The damper can be fitted with manual, pneumatic or electrical actuating mechanism.
VTT Expert Services Ltd certifies that Halton UTA have been found to comply with the Essential Health and Safety Requirements in Annex II to European Union Directive 2014/34/EU of February 2014 relating to the design and construction of Category 2 equipment intented for use in potentially explosive atmospheres.
The type examination certificate (VTT 17 ATEX 053X) certifies that UTA shut-off damper can't produce an ignition source which can ignite an explosive atmosphere.
Halton Marine reminds that the EX Type Examination Certificate is not automatically included with the dampers but must be specified in RFQs and orders.
In addition to UTA shut-off dampers, Halton Marine fire dampers FDA, FDB2, FEX, FDL and FDO have an ATEX certification.
For more information
Salla Ahlberg
Marketing Manager, Halton Marine