Halton built and installed a brand-new Halton's central vacuum cleaning system to Marski by Scandic hotel
The brand-new Marski by Scandic hotel opened its doors in the first week of June 2019. The completely refurbished hotel is located in the heart of Helsinki, Finland at Mannerheimintie 10. The hotel has 363 hotel rooms, a restaurant, a bar, and a café, as well as, space dedicated to events and meetings. Marski by Scandic is part of Scandic's Signature Collection brand and it is the first of its kind in Finland.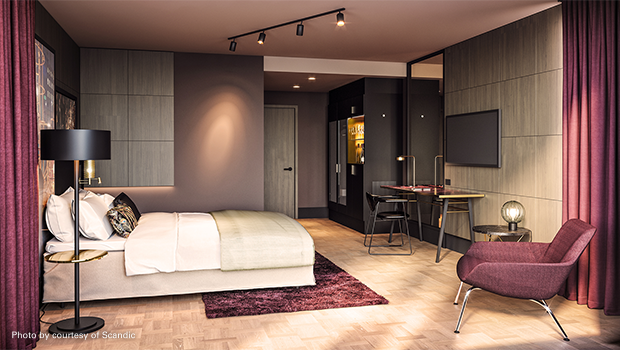 Halton participated in Marski by Scandic project by building and installing a brand-new Halton's central vacuum cleaning system (CVC) to the hotel, replacing an older Halton central vacuum cleaning system. The previous system had been operating since the year 1996, and it was still providing reliable service but had to be removed out of the way during the hotel's refurbishment. An expensive upgrade was not needed since Halton maintained the previous system's motors. Maintenance of the existing motors was a sustainable choice and it saved a considerable amount of money for the customer.
The new CVC system includes four central vacuum units and 404 inlet valves enabling 24 simultaneous users at the time. Central vacuum units are SPLIT-type vacuum units, where motors and electric control cabinets are situated in the AC room at the highest floor and filtration/dust collection units are situated in one room in the basement. All inlet valves are situated in strategic places all over the building: in each hotel room and corridors, reception area, meeting rooms, restaurants and of course, covering a Finnish sauna area as well.
When it comes to sustainable business, Scandic is one of the leading hotel businesses showing the way in the hotel sector. Sustainability is an integral part of Scandic's business. Scandic believes, just as we do at Halton, that caring for people and the environment can both contribute to good business and a better society. Halton's CVC system promotes sustainability in a way that achieves value for money while providing a healthier hotel environment for customers and employees. CVC enables faster and easier cleaning as well as minimized operation costs due to minimal need for maintenance and energy-efficient operation.
For more information
Janne Tulivuori
Sales Manager
janne.tulivuori@halton.com