Halton central vacuum cleaning system to the new Scandic hotel at Helsinki-Vantaa airport
The passenger traffic of Helsinki-Vantaa airport in Finland is rapidly increasing which means that there is a demand for a new accommodation capacity nearby the airport. Scandic Helsinki Airport -hotel that was opened in March is only 200 m away from the airport terminals. Halton has delivered its central vacuum cleaning system called ProClean for this new hotel.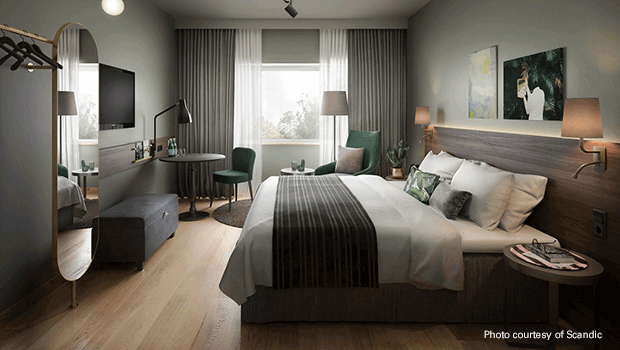 Scandic is the largest hotel company in the Nordic region with 16,000 team members and a network of around 280 hotels in operation and under development. The new hotel at the airport serves business and leisure travelers. Helsinki-Vantaa airport served 18 million travelers last year and it is expected that the number is going to substantially increase when the airport expansion work is completed.
The new Scandic Helsinki Airport hotel includes 150 rooms of which 40 are specifically designed for families and larger groups. There are 181 central vacuum cleaning inlet valves that serve housekeeping. Each guest room has its own inlet valve which enables rooms to be cleaned with a closed door minimizing any possible disturbance to the corridor. The inlet valve inside the room is also more convenient for the user.
The system is powered by two central units. Central units are located in AC machine room and dust collecting units in a separate closet located on the hotel 1st floor. Central units serve 12 simultaneous users.
"Halton Central Vacuum Cleaning system is an excellent choice for hotels as it enables faster and easier cleaning as well as minimized disturbance due to silent and odor free operation. It also creates a healthier environment for customers and personnel by removing hazardous micro-dust and avoiding the creation of dust-raising swirls", said Janne Tulivuori, Sales Manager of Halton central vacuum cleaning systems.
Halton ProClean central vacuum cleaning systems have been delivered for over 2500 projects for both on onshore and offshore.
For more information
Janne Tulivuori
Sales Manager
janne.tulivuori@halton.com