Halton supplies the latest technological ventilation solutions for galleys and restaurants on board Virgin Voyages' first flagship Scarlet Lady
Halton Marine, the leading supplier of galley ventilation solutions, is presenting its latest technological solutions on board Virgin Voyages' first cruise ship named Scarlet Lady. These solutions provide energy efficiency, safety and improved indoor climate conditions for the galleys on board the Scarlet Lady – and even exquisite design features on one of the ship's amazing restaurants – the Korean BBQ named Geonbae.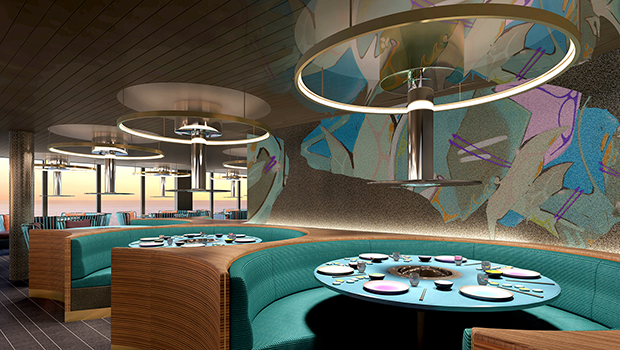 HVAC consumes a substantial part of energy on board ships. Modern technologies, like the Halton M.A.R.V.E.L. demand-based ventilation system, are able to improve the total efficiency of ventilation systems, minimize the environmental footprint and simultaneously improve indoor climate conditions. Virgin Voyages chose the Halton M.A.R.V.E.L. system for all the galleys on board the Scarlet Lady. Compared to traditional hoods, the Halton hoods equipped with the M.A.R.V.E.L. system and Capture Jet technology* can save up to 50% in energy consumption from galley ventilation. In traditional systems, the galley ventilation is maintained at a constant level, whereas with the Halton M.A.R.V.E.L. system, ventilation exhaust and supply air volumes are adjusted according to the real need. The system detects the mode of cooking appliances and optimizes the needed exhaust airflow on each hood inside the galleys. At the same time, the system also ensures comfortable conditions for galley personnel by effectively removing the heat and smoke from the cooking process.
Scarlet Lady will feature more than 20 food venues when it is launched in 2020. Contrary to many cruise ships, Scarlet Lady will not have a main dining room, set dining times, a dress code or a buffet. The cruise ship will have a selection of eateries that range from experimental and haute cuisine to healthy quick-bite options. In Geonbae, the ship's Korean BBQ restaurant, people can cook their own food on flameless grills built into the table. This unique concept on board required a one-of-a-kind solution to catch and extract the convection plume and fumes from the cooking process. Geonbae will have 30 units of the Halton Jet Extraction System installed above the tables. The JES is highly efficient at capturing smoke and impurities even though it operates at low exhaust airflow level and sound levels. Its design as well as the combination of glass and stainless steel make the JES aesthetically pleasing and give the cooking areas a unique style.
– These units have been designed specifically for show-cooking areas, and this particular JES model was tailored according to Virgin Voyages' needs and their visual concept. Tailoring and co-design required several mock-ups at the Halton factory in Germany. On our side, it was a pleasure to receive feedback directly from the owner, says Tapani Peltola, Sales Manager at Halton Marine.
– Halton not only provides top quality products and state-of-the-art technologies, but their team of experts allowed us to challenge the status quo and develop an industry leading custom solution, which will allow us to bring our lively Geonbae restaurant to life while also helping us achieve our goal to incorporate smart technologies across the ship that help us limit our environmental impact, said Frank Weber, Senior Vice President of Hotel operations for Virgin Voyages.
Another unique ventilation solution that will be on board the Scarlet Lady is the Halton mobile cooking station called Halton MobiChef, which is a totally autonomous cooking station for electric appliances, free from any ventilation ducts.
– MobiChef is perfect for show-cooking especially in public areas where it is not possible to have a ventilation duct to extract smells, grease and impurities created by the cooking process. The unit is easy to move from one place to another, it is easy to start up with a plug and play function, and it does look really nice, says Tapani Peltola.
Halton continues to invest in innovative solutions on board. The company has Innovation Hubs in eight countries and manufacturing operations in Finland, France, Germany, UK, USA, Canada, China and Malaysia.
For more information
Salla Ahlberg
Marketing Manager, Halton Marine
salla.ahlberg@halton.com
* The capture efficiency refers to the galley ventilation system's ability to provide sufficient capture and containment at a minimal exhaust flow rate.