Halton's mobile kitchen station praised by TV team
Halton MobiChef is an efficient and independently movable cooking station for professional use, enabling chefs to work in style in premises where cooking is usually not even possible – even in a TV studio! TV chef Linnea Vihonen (on the right) was impressed by MobiChef's amazing features.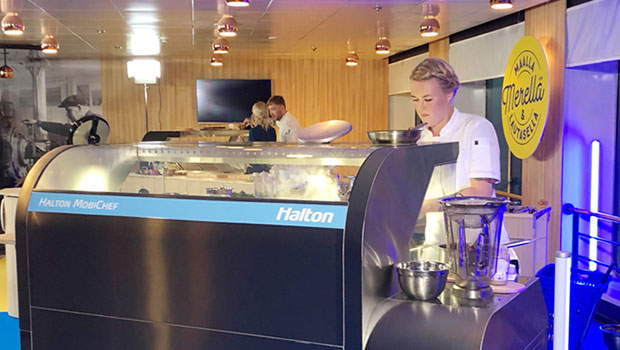 Halton MobiChef enabled top chefs to cook in front of the cameras in a studio set up on a cruise ship, in MTV3 channel's Maalla, Merellä ja Lautasella ("On land, sea and plate") food adventure.
The challenge was to create full cooking facilities in a safe and comfortable studio in a converted lounge on a ship on normal route, without having to build an exhaust air duct. Finnish-owned Halton rode to the rescue, creating high-quality cooking facilities for the top chefs' food adventure in a convenient way.
The efficiency of Halton's MobiChef solution, which has no exhaust air duct, surprised the professionals.
"Following a hectic two weeks of shooting, I can wholeheartedly recommend these miracle devices whenever you want to cook in a place where you normally can't. They are extremely efficient, safe and reliable in my experience," says the programme's Executive Producer Tommy Mäkinen from Folk Finland.
"Before we started shooting, I was a little bit sceptical about how much the devices were able to suck in cooking fumes, steam and smoke, but I must say that MobiChef is an amazing piece of equipment. The fumes are not in the chefs' faces and the device remains surprisingly clean," says one of the chefs, Linnea Vihonen.
"It was great that we could be of assistance in the TV series production," says Project Manager Aku Sveins from Halton.
"MobiChef was OK as such for the production team's needs, so all we really had to do was to take the units on board and plug them in," he says with a smile and continues:
"MobiChef is actually designed for setting up show cooking hubs or mobile cooking islands in restaurants, hotels, exhibitions or shopping malls and so on. The trend was to bring cooking from the back of the kitchen, close to the customers, without making massive technical investments into the building. MobiChef is one of the Halton Foodservice solutions making this trend extremely flexible and easy."
More than 200 Halton MobiChef units are used around the world.