Halton's EcoloAir system enables you to put a galley virtually anywhere
Halton Marine is proud to be addressing the challenges posed by demanding environments!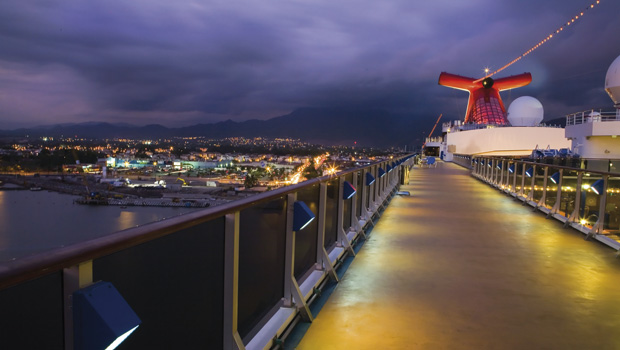 Ventilation is the critical factor to consider when investigating the feasibility of a new kitchen or galley site. Non-traditional sites often require uncommon solutions for kitchen ventilation challenges. There might be critical discharge requirements for smoke and grease, environmental standards, high installation costs for exhaust duct runs, limited space etc. to consider. Halton's EcoloAir system enables to put a galley virtually anywhere.
Carnival Spirit is a Spirit-class of cruise ship operated by Carnival Cruise Line. The cruise ship offers 12 decks of things to do, see, try and taste. For foodies Carnival Spirit offers tons of dining options with places like FAT Jimmy's C-Side BBQ, Freshies's Corner, Nouveau and several brand new dining areas which were created when the ship went into drydock in Singapore for a $44 million refurbishment last August.
Placing a galley on board requires always a great deal of designing. The space is usually limited, the code requirements and regulations, safety, efficiency, hygienic conditions, functionality and comfortable conditions must be taken into account. From HVAC perspective, when designing Carnival Spirit's FAT Jimmy's C-Side BBQ for the deck 10, there was another challenge: there was no exhaust duct available where to exhaust the odors, smoke and grease particles generated by the cooking process. This is when Halton came along with EcoloAir air purification technology that replaced, in this case, the missing exhaust duct.
The Halton EcoloAir is an advanced air purification system has been used extensively across North America and Europe for many years in thousands of installations. The complete system is composed of a Halton hood, EcoloAir Filter Module, Odor Reducing Module and a control panel. The cooking effluent is exhausted from the hood and is ducted to the Filter Module, which consists of a series of three filters designed to achieve 95% (ASHRAE) particulate free air for excellent grease and smoke control. The exhaust air is then drawn through the Odor Reducing Module where the spray mist of atomized particles permeates the exhaust air, attacks and neutralizes airborne odors particulate and the bacteria that cause odors. The control panel is proactive in identifying filter replacement requirement by providing the end user with clear visual indicator of filter life as a percentage. Halton EcoloAir can be located in the ceiling space, on the roof, or in a designated mechanical room. Each module can be assembled and installed as one common unit or individually in separate areas.
EcoloAir air purification technology is in use on board Carnival Spirit where the unit has been placed above FAT Jimmy's C-Side BBQ on deck 10. BBQ venue is located just below the sun deck. The system has been in use since January 2013 and is working as designed.
For more information
Sean Grigsby
Managing Director of Halton Marine North America
sean.grigsby@halton.com