The 2017 Finnish Association of Civil Engineers Award goes to the Inoroom operating theatre concept
The Finnish Association of Civil Engineers (Finnish: RIL) has given its annual award for 2017 to the Inoroom™ operating theatre concept. Transport and communications minister Anne Berner chose the winner from three finalists selected by an expert jury.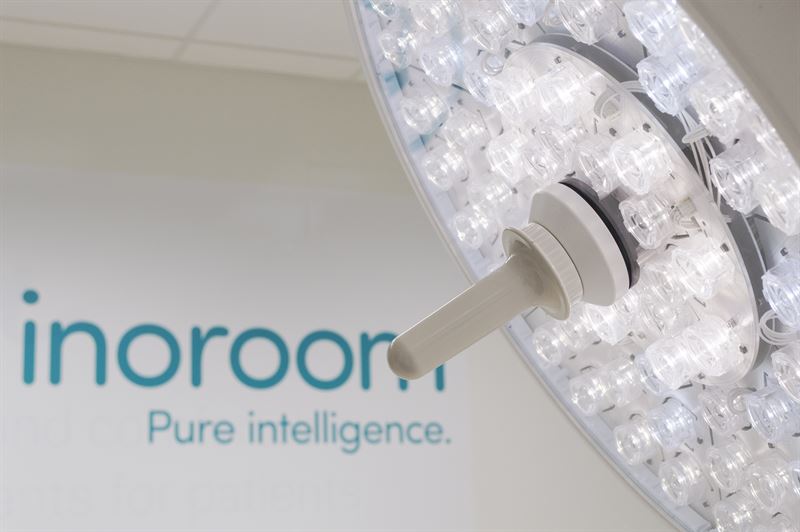 The explanation for the award choice stated: "The expert potential of the Inoroom™ project and the foundation in innovation are some of the elements which deserved to be recognised in the form of an award. The innovation was born thanks to a Tekes-funded research project. The concept's technology, construction and human focus are combined in a space which people use when they depend on other people's expertise."
The Inoroom™ concept combines the advantages of a modular operating theatre in a turnkey solution in which one actor takes total responsibility for the project, all the way from the design phase to the quality of the interior design as experienced by the end users.
"For patients and staff, Inoroom™, through the latest technology, offers optimal conditions which staff in the theatre can adjust using a single touch screen. From the building developer's perspective, there is less project management and fewer risks, and construction is faster," says Mikael Sokolnicki, who is responsible for the development of the Inoroom™ concept.
Second place in the competition was split and awarded both to the large-scale renovation of the Finnish Parliament building and the Helsinki West Terminal 2 project.
"All three projects are fine examples of Finnish expertise in design, project management and construction," says transport and communications minister Anne Berner.
The winner of the Finnish Association of Civil Engineers Award was announced on 23 November 2017 in the House of the Estates, Helsinki.
The Inoroom™ alliance and implementation sites to date
Inoroom™ is a joint operating theatre solution from three Finnish companies that takes advantage of the leading specialised expertise of each in its own field. It is a product development collaboration in which Halton provides ventilation solutions, Hermetel cleanroom expertise and Merivaara its knowhow in operating theatre skills and hospital fittings. The first operating theatres built according to this concept were installed in the Pohjola Hospital, Oulu, in spring 2017. In addition, similar operating theatres have been built in the Pohjola Hospital, Kuopio, and in the Pohjola Hospital, Turku, the latter of which will open next spring. New Inoroom™ operating theatres are also being installed in the Central Ostrobothnia Central Hospital and Oulu University Hospital.
"OP Group and Pohjola Hospital want to be among the first to take advantage of new technologies and operating methods. We've believed in the Inoroom™ concept from the very beginning, and we it is great to be able to offer continued support to top Finnish expertise," says building development manager Kari Kangasmaa of OP.
Further information
Mikael Sokolnicki, Inoroom™ Global Development and Sales
Phone: +358 50 5700 240
mikael.sokolnicki(at)halton.com