Enabling Wellbeing on Board Europa 2
The MS Europa 2 is the second flag ship operating for Hapag-Lloyd Cruises. Built at the STX Europe shipyard in St. Nazaire, France, this magnificent cruise ship entered service in May 2013.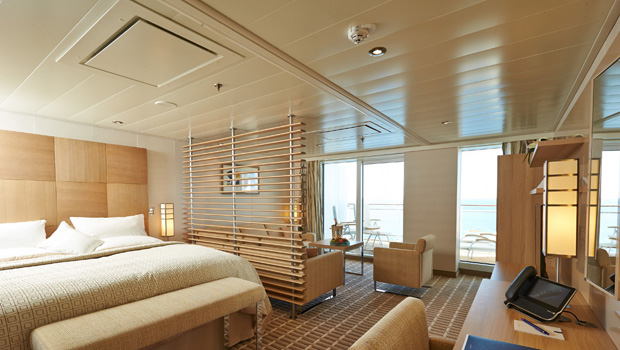 Europa 2 offers a variety of eight different restaurants, amongst them French, Italian and Asian specialty restaurants. Restaurants on board require well-functioning galleys. Halton Marine had a privilege to supply the ship's galley ventilation equipment, including galley hoods that utilize UV-light technology. In the UV-light concept, most of the grease particles are first filtered with mechanical filtration (Halton KSA). The mesh filter behind KSA spreads and equalizes the airflow into the hood chamber. The remaining grease is eliminated with UV-light technology, resulting in clean exhaust ductwork, better fire safety and improved hygienic conditions.
Air comfort is one of the most important factors on board any ship. Europa 2 has 251 cabins that have been equipped with Halton Marine cabin ventilation technology. The pressure-independent cabin units support the indoor environment in the cabins. The airflow is controlled and maintained individually in each cabin and thus the noise levels are kept at the lowest possible level to maximize comfort. Passengers are able to adjust the temperature according to their preference by using an LCD room thermostat. On the other hand, the Halton Marine supervision software, which runs on a standard computer, offers an excellent tool for HVAC engineers to control, adjust and monitor the complete cabin ventilation system.
Safety is especially important on board. MS Europe 2 has been equipped with Halton Marine fire and gas dampers that are installed to prevent and restrain a possible fire progression in a ventilation ductwork. Halton Marine fire dampers represent quality. FDB2 is the most widely sold marine fire damper in the world.
Halton Marine is proud to enable wellbeing on board Europa 2 by providing a comfortable and safe indoor air environment.
Name: Europa 2
Operator: Hapag-Lloyd Cruises
Port of registry: Valletta, Malta
Builder: STX Europe, St. Nazaire, France
Maiden voyage: 11 May 2013
Air-conditioning turn-key supplier: Cofely Axima
For more information
Yvan Lavaux
Sales Manager
yvan.lavaux@halton.com