Halton Marine has opened doors to a Virtual Galley
Halton Marine has opened doors to a Virtual Galley that showcases galley ventilation technologies in action: how to save energy, keep hoods and exhaust ducts clean, create comfortable conditions and improve fire safety.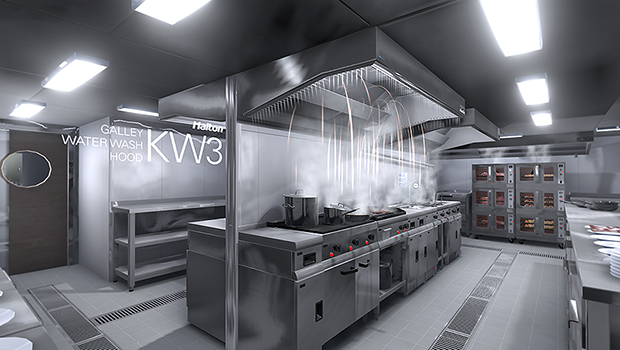 Halton is known for its systems that provide energy-efficient solutions for capturing airborne impurities and heat loads in professional kitchens and galleys. The results of these systems allow for a more comfortable, safer and more productive thermal environment at reduced operational costs.
Halton Capture Jet technology demonstrated in virtual galley is a system that can substantially reduce the energy consumption of galley ventilation and at the same time improve air quality. By improving the total efficiency of the ventilation system, it is possible to gain savings in both initial investment and running costs, while also increasing worker productivity by improving indoor climate conditions on board.
Capture efficiency is the ability of the galley ventilation system to provide sufficient capture and containment at a minimal exhaust flow rate. Halton Capture JetTM technology creates negative pressure along the front edge and sides of the hood and assists in capturing and containing heat and effluents in the critical work area. Halton's system is unique. Capture JetTM reduces the effective net exhaust volumes while improving extraction efficiency, while fan and ductwork size are minimized. Capture JetTM hoods prevent heat and impurities produced by cooking appliances from spreading to the work area. The hoods deliver a small air jet that pushes the upward-flowing thermal current toward the filters.
Capture JetTM hoods include Halton patented KSA filter, which remove 95% of grease particles sized eight microns and above. The remaining grease particles are filtered with UV-light technology. This, along with automatic water wash technology, are demonstrated in virtual galley. Clean hoods and exhaust ducts improve fire safety in galleys.
A very significant technology introduced in Halton Virtual Galley is demand based ventilation for galleys. Halton M.A.R.V.E.L. is designed specifically for Halton hoods to optimize their efficiency and minimize the environmental footprint. Compared to traditional hoods, the Halton M.A.R.V.E.L. system, combined with the Capture Jet technology, can save up to 50 % in galley ventilation energy consumption. It is no wonder that this system has become increasingly popular. It brings nothing but the benefits for galley ventilation.
So, how does it work? In traditional systems, the galley airflows are maintained at a constant level, whereas with M.A.R.V.E.L. the ventilation exhaust and supply air volumes are adjusted according to the actual need. The system identifies the status of cooking appliances and optimizes the needed exhaust airflow for each galley hood. At the same time, the system also ensures comfortable conditions for galley personnel by automatically maintaining pre-set temperature levels inside the galley. Virtual Galley visitors can themselves turn on and off appliances and create therefore different kind of environments for galleys. The virtual galley demonstrates what happens in the ventilation system in different operation environments and how the system adjusts itself to save energy.
For more information
Salla Ahlberg
Marketing Manager, Halton Marine
salla.ahlberg@halton.com