Halton Opens a New Factory in Malaysia
Asia has a central role in Halton's strategy, as the company is targeting fast growth in the emerging markets. The Asian expansion is led from Malaysia, where Halton established its first Asian office and manufacturing facility in 1996. As Halton's business in the region continues to grow rapidly, the company has moved its production to larger premises in Malaysia. The opening ceremony of the new factory took place on the 29th of November 2013.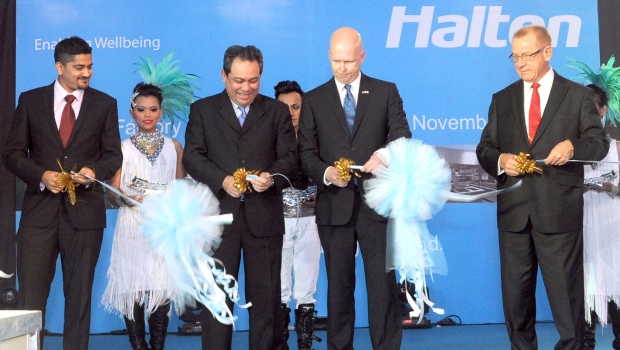 – For the moment Halton has locations in eight countries in Asia and Pacific, including manufacturing facilities in Malaysia and China. We also have license manufacturing in Australia and New Zealand, and earlier this year we opened sales offices in the Philippines and Indonesia. Expanding into new markets allows Halton to be close to its customers, and always provides new opportunities. We foresee Asia to be a growth market for decades to come, explains Olli Sipilä, Director for Halton Group Asia.
Due to Halton's success and rapid expansion in the region, and the need to increase capacity and support for customers, Halton has moved its current manufacturing facilities in Malaysia to larger premises. The opening ceremony took place on Friday, 29th November. Matti Pullinen, the Finnish Ambassador in Malaysia, and Mika Halttunen, Halton Group's Chairman of the Board, spoke at the inauguration.
– The new facilities will increase our production capacity and product range offering. The demand for high-quality indoor environmental systems is growing in the whole Asian region. Halton's brand new R&D centre, which was opened in Malaysia in March 2013, is also located in the same premises, Mika Halttunen said in his speech.
The new manufacturing facility measures 5000 sq. meters and employs 100 people. The main markets for the products include Middle-East, India, Japan, Korea, New Zealand, and Oceania. Halton's customers in the region include for instance major hotels in Singapore, Indonesia, Malaysia, Dubai, and Philippines, as well as the famous Taj Mahal in India.
For more information
Olli Sipilä
Director, Halton Group Asia
olli.sipila@halton.com