The new CE-marked Halton FCE fire damper is available now!
Halton introduces its new FCE fire damper that is designed for use in onshore environments. Halton FCE fire dampers are tested and certified products for installation within ventilation systems and ductwork to prevent fire and smoke spreading throughout the HVAC system.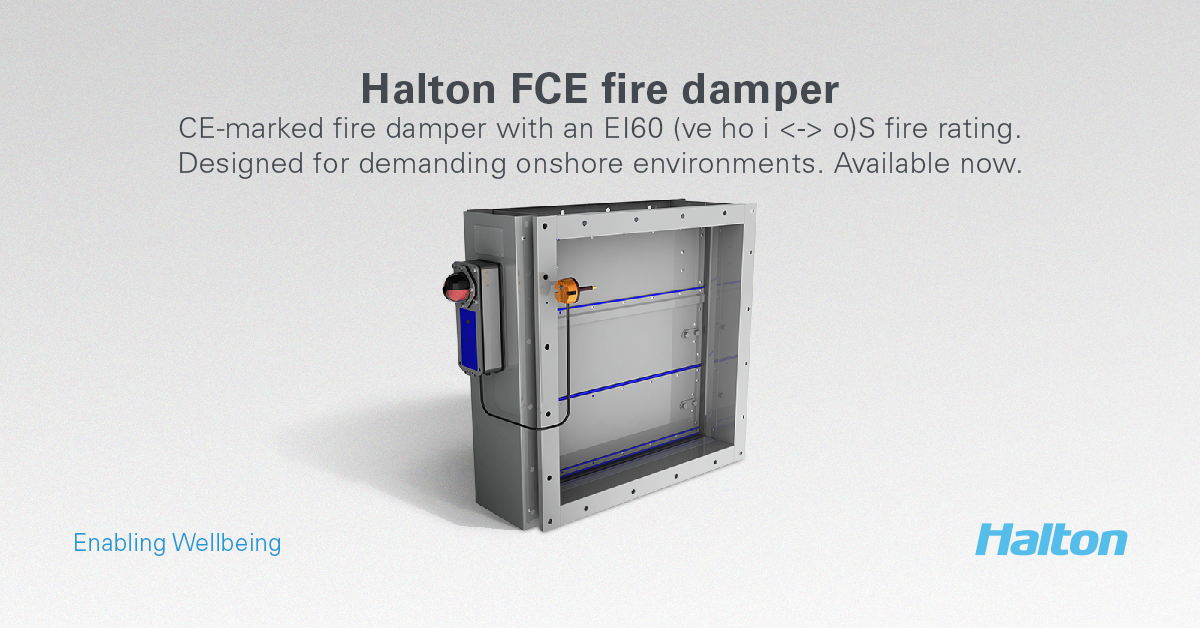 The FCE fire damper is designed specifically for industrial installations such as power plants and petrochemical sites. It is also an ideal solution for commercial projects such as factories, hospitals, and laboratories where high integrity products are required, particularly with ATEX and stainless steel construction.
The FCE fire damper is fire tested according to EN 1366-2 standard and CE-marked according to the standard EN 15650:2010. ATEX certification is available as an option.
The FCE fire damper differs from other EN 1366-2 tested fire dampers by being a state-of-the-art robust multi-blade fire damper to meet the requirements of fire resistance class EI 60 (ve ho i ↔ o)S.
The FCE fire damper can be installed into rectangular HVAC ducts that penetrate solid or lightweight partition walls and ceilings. The damper ease of installation on-site makes it an ideal choice compared to other fire dampers. The damper is installed 75-1000 mm away from the wall by using a fire-rated duct. This installation method follows the requirements of the above-mentioned standards and therefore the final damper arrangement provides a fully compliant installation.
The FCE fire damper has a very low leakage in ambient and fire conditions. During the normal operation, the fire damper is in the open position and does not cause significant pressure loss, noise, or flow disturbance.
The FCE is available with a range of material options and accessories. The EI 60 (ve ho i ↔ o)S fire classification together with the optional ATEX certification allows the use in the most demanding environments and projects, making FCE a one of a kind offering.
Download the datasheet for the FCE fire damper here.