Top-level welding quality assurance verified with certification
Halton Marine Oy's welding quality system has been certified according to the standard ISO 3834-2 (Comprehensive Quality Requirements). The standard is a globally recognized proof of the quality of welding processes. The certified welding quality system covers all Halton Marine product categories that include welded structures: dampers, galley ventilation equipment, droplet separators and louvers.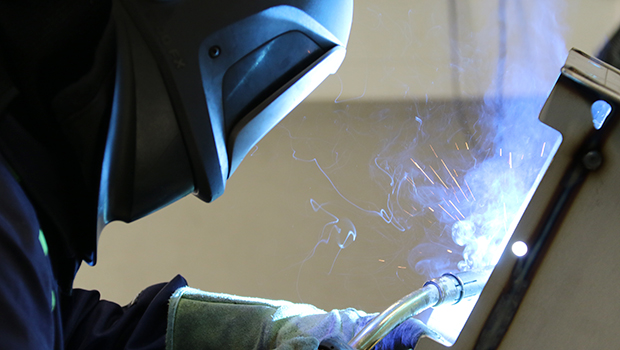 – Welding quality assurance has become increasingly important in all business sectors. By certifying our welding quality system, we have a third-party authentication on the quality and functionality of our welding process. Therefore customers can rely on high-quality welded products and get documented proof on reliable and well-functioning welding processes, says Halton Marine Factory Manager Pekka Kyllönen.
Although the certificate was received recently, welding quality assurance is not a novelty at Halton Marine Oy. The basis of the welding quality assurance that is skilled welders that are qualified according to applicable standards has been standard procedure at Halton Marine Oy for more than 10 years. At the moment Halton Marine Oy has eleven full-time welders with varied qualifications, and even two IWSs (International Welding Specialist) and an IWI (International Welding Inspector), available in house. Also qualified written welding instructions, aka Welding Procedure Specifications, have been available for almost ten years.
– The quality of welding is achieved by doing, not by checking. Welding is a so-called special process, which means that welding quality cannot be fully verified afterwards without breaking the welded structure. In order to be sure of the quality of the welded product, the welding process needs to be well controlled from the beginning to the end. With the certified welding quality system, we can make sure of this, says Anne Hakamäki, QHSE Manager at Halton Marine.
– One additional advantage of certifying the welding quality system is that now it will be annually audited by a third-party expert. This enables us to further improve e.g. welding quality, production control and effectiveness of manufacturing process. Elements of ISO 3834-2 requirements have been added to the certified ISO 9001 quality management system, which Halton Marine Oy has had for decades, concludes Anne Hakamäki.
The new ISO 3834-2 certificate supplements the already comprehensive set of certificates that Halton Marine Oy has in the area of QHSE. Valid certificates can always be found on the Halton website, www.haltonmarine.com.
For more information
Anne Hakamäki
QHSE Manager
anne.hakamaki@halton.com