Viking Glory, one of the world's most climate-smart vessels, features Halton's high-quality ventilation solutions
Viking Glory, the latest addition to Viking Line's fleet, will start her daily sails between Stockholm, Mariehamn and Turku starting in early 2022. Halton had the honour of manufacturing and supplying high-quality ventilation solutions for Viking Glory, including fire and gas dampers, gastight shut-off dampers, droplet separators and cabin units.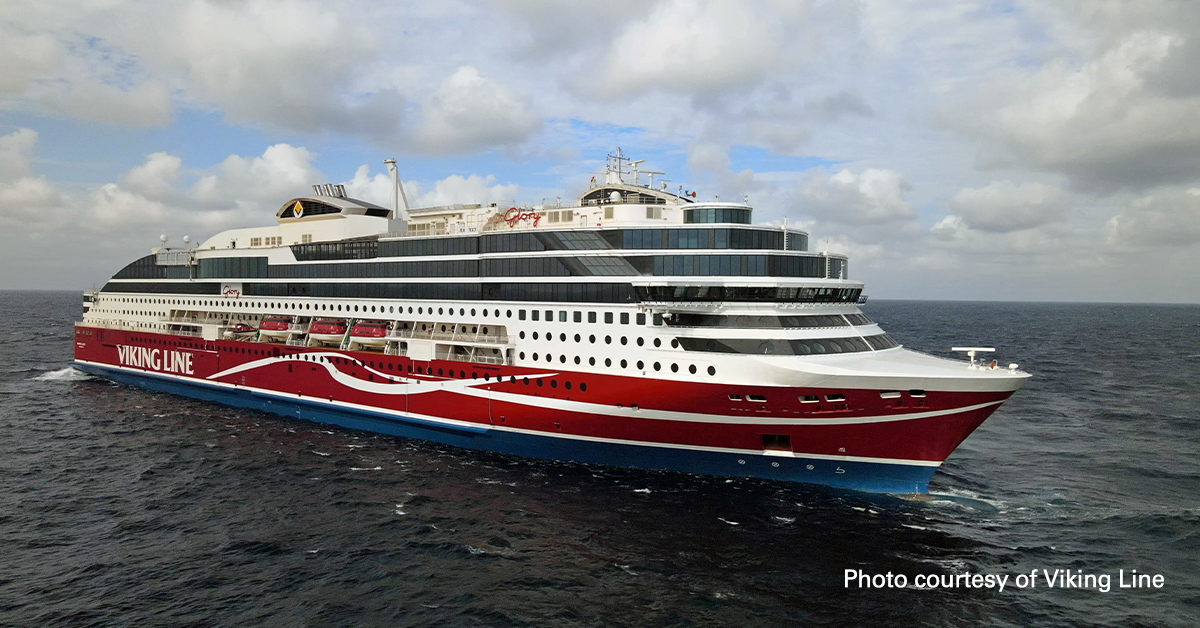 Viking Glory, built at Xiamen Shipbuilding Industry's shipyard in China, features many advanced, innovative technologies that make it one of the most environmentally friendly vessels in the world
Viking Glory is the first vessel to be equipped with Wärtsilä's new 31DF multi-fuel engines, which run mainly on liquefied natural gas (LNG). Compared to traditional heavy fuel oils, the use of LNG reduces emissions of carbon dioxide (CO2) and nitrogen oxide (NOx), and there are virtually no emissions of sulphur (SO2) and fine particles. Waste cold from LNG use is recovered and recycled for cold counters, cold rooms and other special rooms
ABB's Azipod® propulsion installed in Viking Glory increases manoeuvrability to the extent that the time saved in the port allows the vessel's speed to be reduced by one knot. This will reduce CO2 emissions by approximately 10,000 tons a year.
With the new automated mooring system installed at the Port of Turku, Finland, Viking Glory can dock in a safer and faster way while saving both time and fuel.
To even further reduce her climate impact, as the first vessel in the world, Viking Glory features Climeon's two steam turbines specifically designed for the vessel. Combined with Climeon's Heat Power system, these innovations are expected to reduce C02 emissions by approximately 4,000 tonnes a year.
Halton's high-quality ventilation solutions installed in Viking Glory contribute to the operation and protection of the HVAC system and the general fire safety of the vessel
Viking Glory is equipped with Halton FDB2 and FDO dampers, which are type-approved class A0(A60) fire and gas dampers. The dampers are designed to prevent the possible progression of fire, smoke and gas through the ductwork system to the other areas of the ship. Fire dampers, installed in the ductwork, close when the temperature in the ductwork rises over the threshold limit. FDB2 is the most widely sold marine damper in the world.
Viking Glory is also equipped with Halton UTG gastight shut-off dampers that are used to balance airflow rates in high-pressure ductworks and shut off the ventilation ducts in possible emergency situations.
In addition to dampers, Halton also supplied Halton DSH high-efficiency droplet separators that are designed to restrict the penetration of moisture, salt spray, rainwater and airborne aerosol particles into the HVAC system.
Viking Glory is also equipped with Halton HMF single duct cabin units with integrated reheaters that heat the supply air according to demand. Halton cabin units are an excellent choice for cabin ventilation as they utilize only 100% fresh supply air. Altogether, Halton has supplied cabin ventilation solutions for over 150 000 cabins across the seven seas.
Specifications
| | |
| --- | --- |
| Length | 222.5 meters (730 feet) |
| Width | 35 meters (115 feet) |
| Passengers | 2,800 |
| Cabins | 922 |
| Cargo deck | 1,500 meters (4,921 feet) |
| Speed | 22.1 knots |
| Crew | 200 |
About Halton
Halton specialises in indoor environment solutions, ranging from public and commercial buildings to foodservice facilities. Founded in Finland in 1969, Halton operates today in over 35 countries around the world and has production facilities in 9 countries.
The Lahti and Shanghai production facilities develop, manufacture and market reliable, high-quality ventilation solutions specifically designed for shipbuilding, oil & gas, energy and naval applications.
More information
Salla Ahlberg
Head of Marketing
salla.ahlberg@halton.com