RAH – Reco-Air by Halton – Recirculating kitchen extract unit (UL)
No requirement for ductwork to exterior for all electric catering equipment
Reco-Air by Halton RAH recirculating kitchen extract units work at the heart of the Capture Jet kitchen ventilation system serving all electric catering equipment and achieving complete recirculation of exhaust air with no requirement for ductwork to outside.
RAH units' highly efficient filter technology removes particulates and odors. The processed air is independently certified as clean to be re-introduced as supply air.
Overview
Halton RecoAir RAH units eliminate long ductwork needed to go outside when they become too costly or when they simply are impossible to install. Technical constraints on buildings' structure, restrictions linked to listed activities or historic sites, co-ownerships opposed to the degradation of the facades aesthetic or to odor nuisance risk… all these challenges can easily be overcome with recirculation units.
3 sizes available up to 3800 CFM capacity allows the RAH to serve  Halton hood lengths totaling almost 18 feet of Capture Jet with no limitations on the electrical appliances' input power.
In addition to providing opportunities to install kitchen operations in previously unfeasible locations, RAH units significantly reduce fire risk. They also simplify planning procedures.
Cost Effective
RAH units reduce CAPEX investment. They eliminate the costly fire-rated ductwork to the atmosphere thus reducing the construction and installation costs.
They also reduce the utility usage with a compact design and ease of assembly.
RAH units enable establishing a restaurant wherever you chose i.e. where it is of most value, whatever the technical or environmental challenges.
Traditional extract ductwork requires regular specialist cleaning. RAH units significantly reduce maintenance regimes when accessing duct systems and plant is difficult and time consuming.
Reduced fire risk and emissions control
RAH units significantly reduce fire risk by eliminating ductwork to outside and suppressing grease deposits after the unit.
RAH units reduce the need to pierce buildings' fire compartments.
RAH units can be installed in a fire-rated enclosure. Whether located inside or outside the main hazard area, the risk is minimized.
The contaminants produced by commercial kitchens are no longer expelled to outside thus removing the risk of nuisance on the neighborhood and possible legal actions.
Distant monitoring (optional)
Equipped with Halton Connect IoT (Internet of Things) platform with advanced 24/7 distant monitoring capabilities.
Highest value of ownership thanks to Halton Connect & Care smart services offering.
Design flexibility
RAH units can be located internally or externally, adjacent to or remote from the kitchen. The unit can be hung within ceiling voids giving flexibility to equipment layout and also eliminating the requirement for certain planning processes.
RAH units enable adding cooking appliances in existing kitchens without the need to deeply modify the ventilation system.
RAH units facilitate internal layout flexibility. They are easily retro-fitted or relocated.
Independently tested
Air Cleanliness Study by Validair.
Acoustic survey report by Applied Acoustic Design.
Technical Description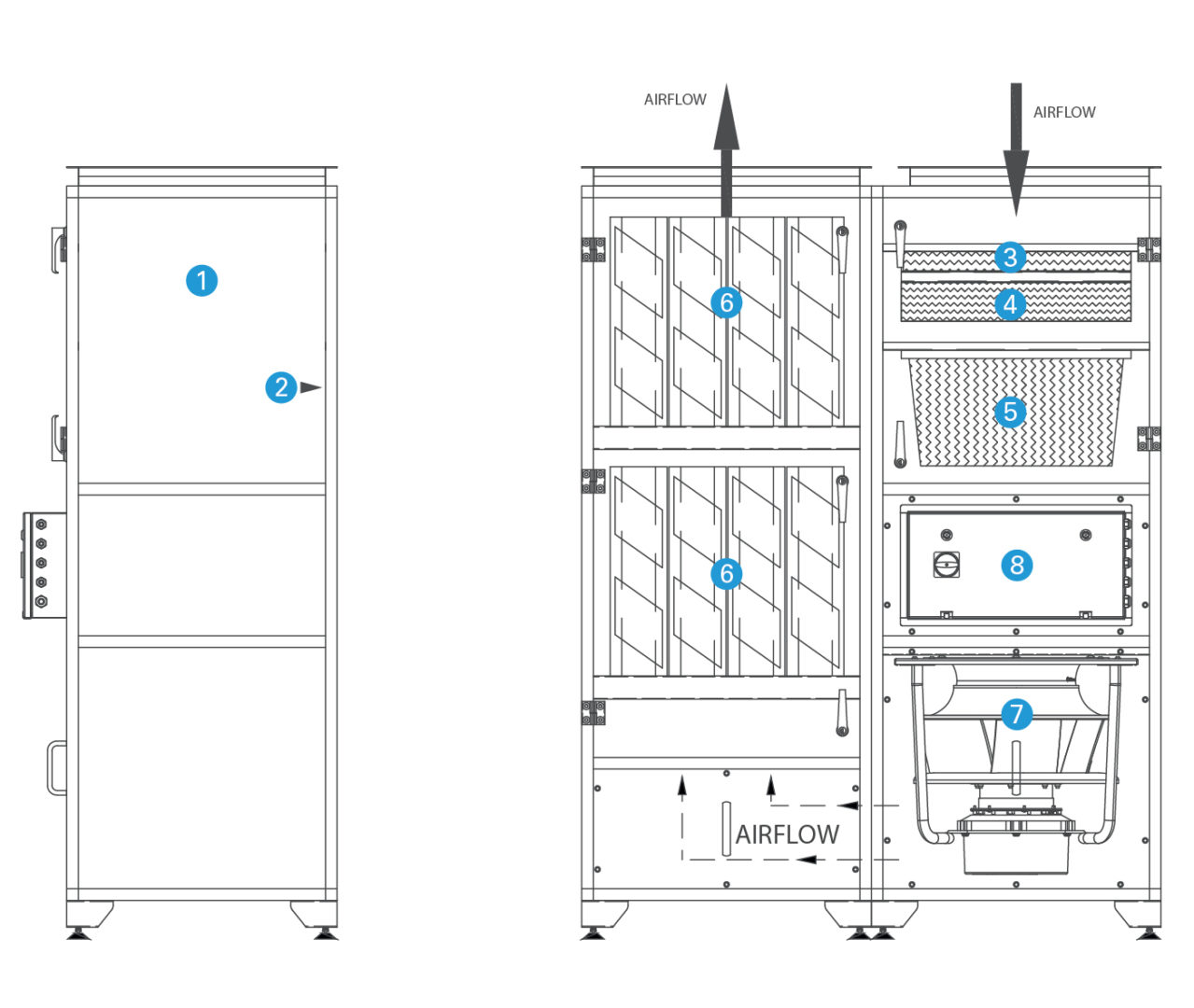 | | |
| --- | --- |
| Code | Description |
| 1 | 1" double skin panel, .20 lb/cubic inch density mineral wool insulation |
| 2 | Galvanized steel finish to interior |
| 3 | Large grease particle removal MERV 8 |
| 4 | Fine grease particle removal MERV 11 |
| 5 | Smoke removal MERV 16 |
| 6 | Coconut Shell activated carbon Cylinders – Odor removal minimum dwell time shall be 0.2 seconds. |
| 7 | EC Plug Fan, 208/460/3/60hz, suitable for 0-10v signal control |
| 8 | Control Box |
Note: When used with an Electric broiler, the following changes to the filter arrangement are made
Replace the V-Bank MERV 16 final filter with a 99.97% HEPA filter
Adjust static pressure for HEPA
Use best practice for room air change strategy
* Hoods must contain Mesh 2nd filter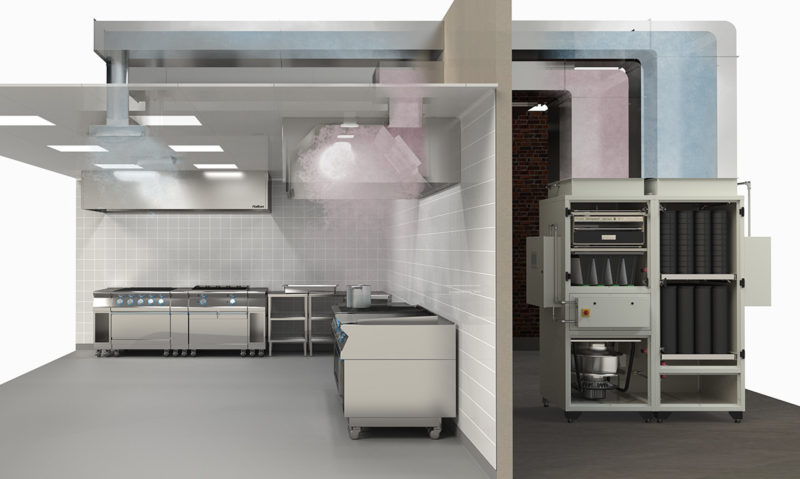 Dimensions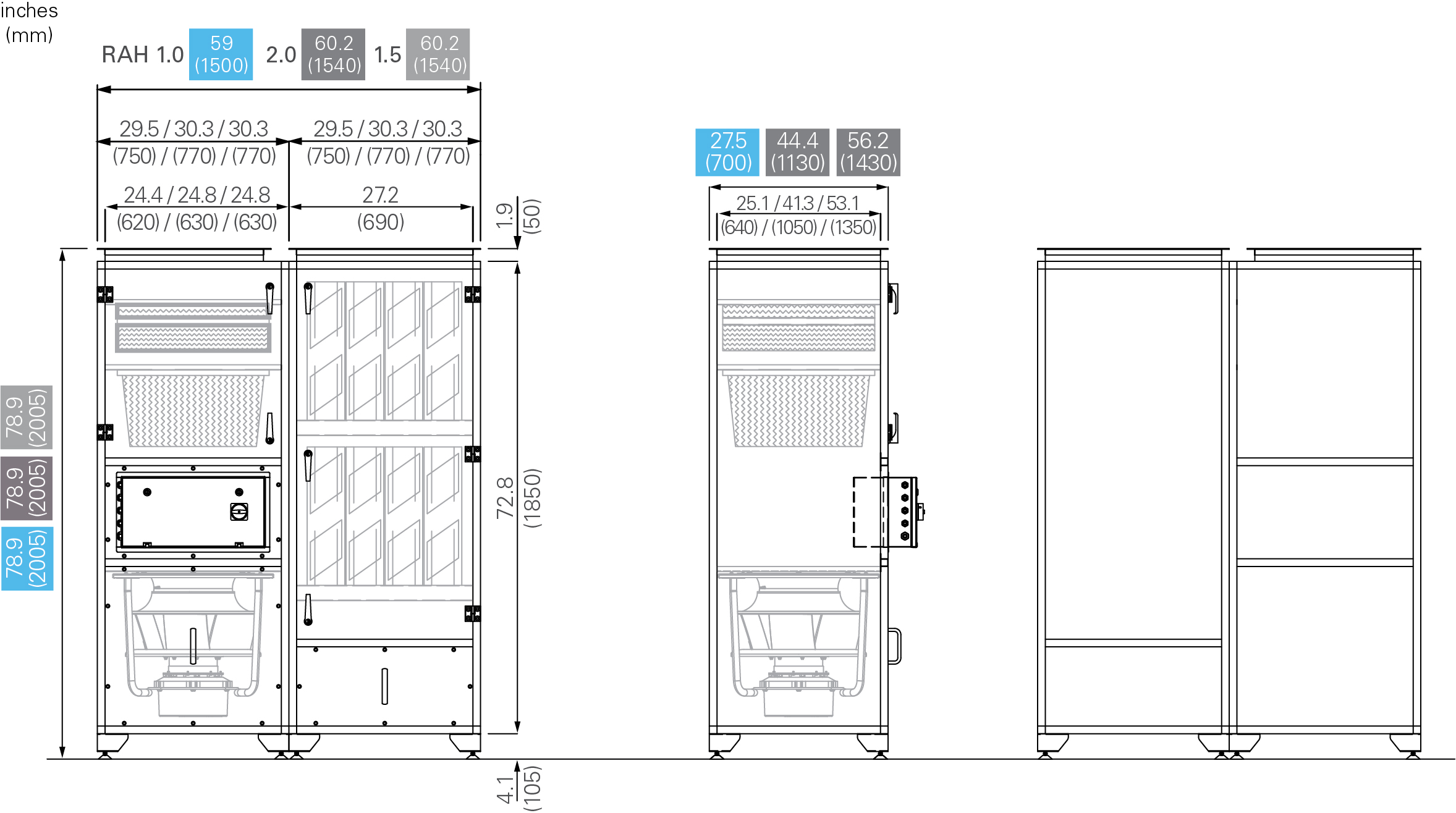 Ceiling Void Units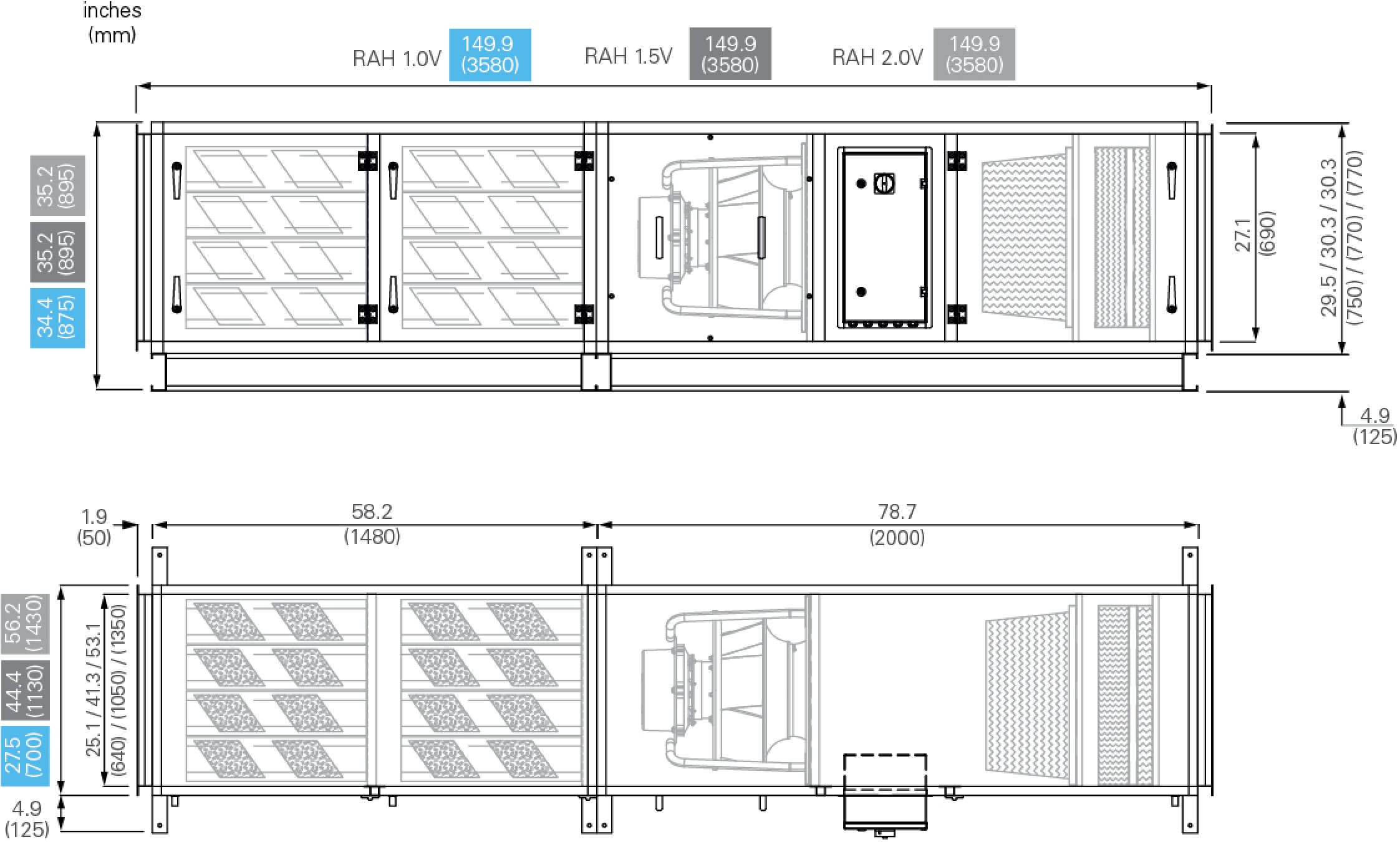 Specification
RAH Reco-Air recirculating kitchen extract unit
Reco-Air recirculating kitchen extract unit The recirculating extract unit shall be Halton Brand, Reco-Air by Halton RAH range. It is equipped with a full air treatment system to remove grease, steam, smoke and odors from the extract air.
The Reco-Air by Halton unit is to be used with hoods over electric appliances only. The hood(s) are to be connected to the Reco-Air unit with NFPA 96 compliance grease duct. All national and local codes apply to the construction and installation of the ductwork.
The maximum length of the exhaust duct between the hood(s) and the Reco-Air unit should not exceed 35 feet typically. The driver for the maximum length of the duct is the external static pressure (of the hood(s) and ductwork combined). The maximum external static pressure of the hood(s) and ductwork should not exceed 1.3 inches of water column.
The unit shall be supplied complete, fully pre-wired from factory and ready to be installed. The following specifications shall be fully observed.
General Unit Construction
Unit shall be constructed of 25 mm double walled, galvanized steel panels with internal and external powder coat finish. They shall be insulated using .20lb/in3 density mineral wool to ensure good acoustic performance & thermal properties.
Access doors to the main filter sections shall be lift off or mounted on hinges, equipped with lockable black handles for an access by Authorized Personnel only. Fan(s) access door(s) shall be screwed.
Specific Requirements
As a minimum requirement, each unit shall incorporate the following grade filter media:
– Large grease particle removal MERV 8
– Fine grease particle removal MERV 11
– Smoke removal MERV 16
– Coconut Shell activated carbon Cylinders – Odor removal minimum dwell time shall be 0.2 seconds.
As a minimum requirement, each unit shall incorporate the following fan assembly (voltage to be verified when sending for review):
– EC Plug fan, 208 or 460 V (depending on unit capacity).
– Three phase, suitable for 0 to 10V signal control.
– Max. working temperature to suit specific applications.
– Each fan shall be Inverter Controlled, so fan speed ramps up as the filter pressure increases to maintain a constant air volume flow rate at the cook line/hood.
Fire Suppression
Reco-Air unit to be factory supplied with complete wet chemical fire system compliant with U.L. 300 standards. The system shall include factory pre-pipe, tanks, regulators and fusible links.
Automatic actuation shall be by means of fusible link rated for the cooking duty. The system shall be furnished and installed by a certified distributor in accordance with manufacturer's instructions and the authority having jurisdiction.
Microswitches shall be furnished as part of the fire protection system for tie in of building alarm and for make-up air/fire/fuel shut down. Shunt trip breakers by others.
If applicable, the Building Alarm System Contractor is to furnish a control relay to detect the operation of the system by connection to the microswitches supplied. The Electrical Contractor is to furnish and install all wiring required for the system specified.
Control platform & Interface Requirements
The control platform shall include a unique LCD user interface common to all technologies of the manufacturer.
Optional Halton Connect shall also have advanced distant monitoring capabilities enabling future premium services, including predictive maintenance of the systems.
The control platform shall ensure the unit ceases to function if any of the following scenarios arise:
– A unit filter access door is left open or slightly open.
– Filters are removed or left out of the unit.
– The Fire Alarm system is activated.
– The registered filter pressure drop across any of the primary 3 sets of filters exceeds pre-set warning levels & reaches critical levels.
– The unit Isolator is turned Off.
– A system Timeclock – external controls – is not calling for system activation.
– A remote Shut-off safety feature – external controls -has been activated.
An electrical interlock system shall be incorporated to disable all essential cooking equipment whenever a 'No Air Flow' status is present.
Air Commissioning / Testing
The unit(s) shall be delivered pre-commissioned from the factory.
On completion of any RecoAir unit installation, the air volume flow rates to extract & return air ductwork must be verified by a suitably qualified commissioning engineer & a report produced as point of record.
All test points are sealed with proprietary plugs on completion of this operation.
Measures for unit's Service & Maintenance
When planning the installation of the recirculation unit –however configured – adequate clearance must be allowed to facilitate safe operative replacement of the filter media & fan(s).
To comply with Specific Landlord / Authority approvals – a Service Contract is required. It is highly recommended to use a suppliers' accredited service partner.
Evidence of same must be made available prior to formal approval being acknowledged.
Reco-Air Unit Noise Breakout
In normal 'Internal' instances, breakout noise from the unit shall not exceed 60 dB(A) when measured at 1 metre (free field).
Where Specific Authorities enforce lower noise levels, the unit construction shall be modified accordingly.
Frequently Asked Questions
Are RecoAir units listed and approved for all locations?
RecoAir units are U.L. Listed to the UL710B standard for recirculating hoods as long as they are coupled with a UL710 Capture Jet exhaust hood. Most jurisdictions accept UL listings for approval, but the local authorities have the final say, and it's always a good idea to verify that they accept recirculating hoods. Other jurisdictions also require local approval, such as New York City has a Certificate of Approval for all mechanical equipment.
What is the required clearances for maintenance?
• 22" on output (carbon filter) side for door to open far enough to remove carbon trays
• 28" min in front of carbon door for door swing
• 36" min in front of 208v panel
• 42" min in front of 460v panel
How far can the RecoAir be placed from the hood location?
35 feet is the maximum distance. Consult factory on any distance beyond that.
How noisy is the tower?
The tower is quiet, break out noise does not exceed 64dBA measured 3 feet from the unit.
Can it be used with a Halton EO hood/any type of Halton hood?
It is recommended to use a Capture Jet hood to maximize the length of hood available; RecoAir by Halton can exhaust up to 3800 cfm or approximately 18 feet of Capture Jet hood.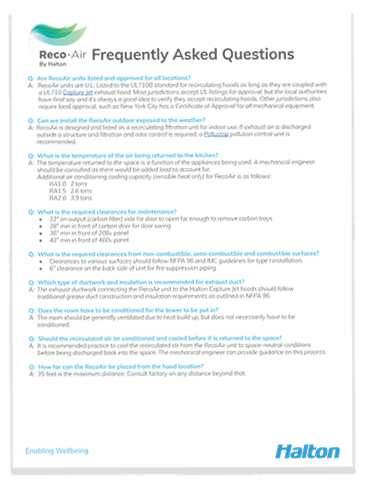 Download Our Full Frequently Asked Questions for RecoAir
Read more