CxRA
Catering by Restaurant Associates
New York, NY
Part of the acclaimed Restaurant Associates family, CxRA is a custom caterer devoted to creating extraordinary events. Fresh, local ingredients, and years of fine-tuned culinary expertise are just the start.
CxRA chooses Halton for their kitchen ventilation catering facility.
Find out more about CxRA – https://www.cxra.com/
CxRA, a custom caterer devoted to creating extraordinary events
When CxRA was searching for their new home in Queens, New York, after outgrowing their current location, of prime importance was the need for functionality and flexibility. Christine Gurtler of Jacobs Doland Beir was the Food Service Consultant Project, Manager. Christine had worked with Halton on several projects and knew it was the right fit for CxRA. According to Tim McLaughlin, head chef for CxRA stated, "We needed a space that was going to be mobile at all times," he explains. "We could be doing dinner for 100 one day, and the next day is serving boxed lunches for 5000."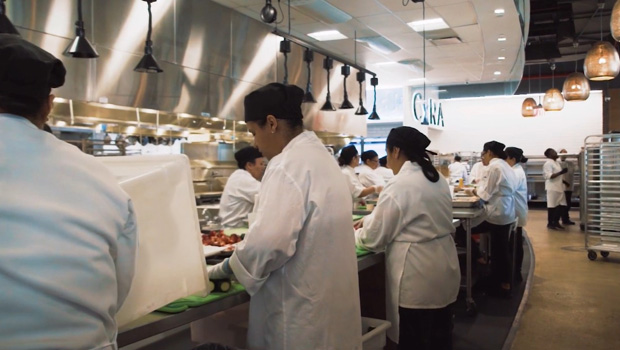 Enjoy this video from FoodableTV created for CxRA
Hear what Tim McLaughlin, Vice President, Culinary Service at CxRA, and Christine Gurtler, Design Director at Jacobs | Doland | Beer have to say about their experience on this project and working with Halton.
The goal of the design was to ensure that the company's 107 cooks would be able to perform their day-to-day tasks in as few steps as possible. Also; "We can create a lot of smoke because of the amount of production we do," says McLaughlin. "We wanted to make sure you can leave here, and your clothes aren't going to smell like food."
That is where Halton came in. With a focus on functionality and flexibility, the design incorporated Halton's high-efficiency Capture Jet hoods, M.A.R.V.E.L. demand control system, the KDS, utility distribution system, and Pollustop pollution control system. The variability of the cooking process and the changing cooking demand was the perfect fit for the M.A.R.V.E.L. demand system. It automatically adapts to changes in cooking and loads. The KDS utility system allows for changing of appliances, if needed, without a major overhaul of utility systems. Lastly, the Pollustop allows CxRA to be a good neighbor and discharge scrubbed air to the environment.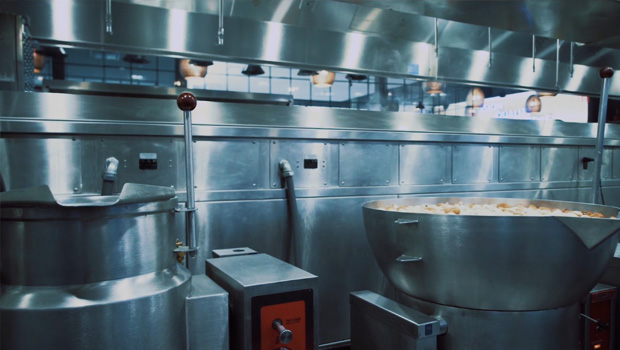 McLaughlin followed Gurtler's advice with the installation of the Halton system-a decision that he has not regretted since day one. The results have been life=changing in terms of flexibility and performance.
Editors note: some content taken from Vanessa Rodriquez, FoodableTV on the project
Need more information?
Our team looks forward to hearing from you. Please give us a call, send us an e-mail, or fill in the form with your questions. We'll be in touch with you shortly.
From inquiries to asking our team specialists, we are here for you!
Contact Us