The Modern Way of Cleaning in Hotels
Keycard for a better indoor air?
Contact us for a one-on-one webinar and learn how Halton central vacuum cleaning system can improve your hotel's indoor air quality and save substantially in costs. Download "Modern Cleaning in Hotels" -booklet and see our calculation how to save potentially hundreds of thousands of Euros a year.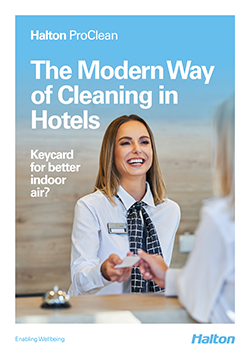 Free download (PDF)
How to Save Hundreds of Thousands of Euros a Year with CVC?
Download our free ebook and see our calculations.
One-on-one webinar
How hotels have been able to improve the air quality and return on investment by using Halton central vacuum cleaning system? Sign up today for our 25-minutes-long webinar, held in one-on-one or one-by-company, and we will show you independent data. We will make it worth a while. Fill out the contact form or call us right away (contact details below).
Halton expert – ask an evaluation on your project with pay-back time estimation

Timo Kohtaniemi
Sales Team Manager, Ships, Heavy Industry
timo.kohtaniemi@halton.com
+358 40 507 1354
Why is Halton central vacuum cleaning system such a clever choice for hotels?
Watch the 2-minute video and learn in a nutshell what you need to know about central vacuum cleaning systems for hotels
Whitepaper The Modern Cleaning in Hotels: Read more information on how you can save hundreds of thousands of euros a year by choosing Halton central vacuum cleaning system. Download Modern Cleaning on Hotels white paper on the below the page

Nothing but the benefits
Halton central vacuum cleaning system has been specifically designed for heavy-duty use. The system offers nothing but benefits with a quick pay-back time. The central unit has been designed as long as the building life-cycle (up to 25-30 years).
References
The CVC system is always designed in collaboration with the customer, taking their practices for cleaning and the entire life cycle of the building into consideration. We have completed over 2,500 CVC system installations with great customer satisfaction. We have experience in installing CVC systems in applications such as hotels, cruise ships, oil and gas platforms, offshore installation vessels, ice-breakers, and many more. Not only we have supplied solutions for new-builds but also refurbishments. Read more about our references below.