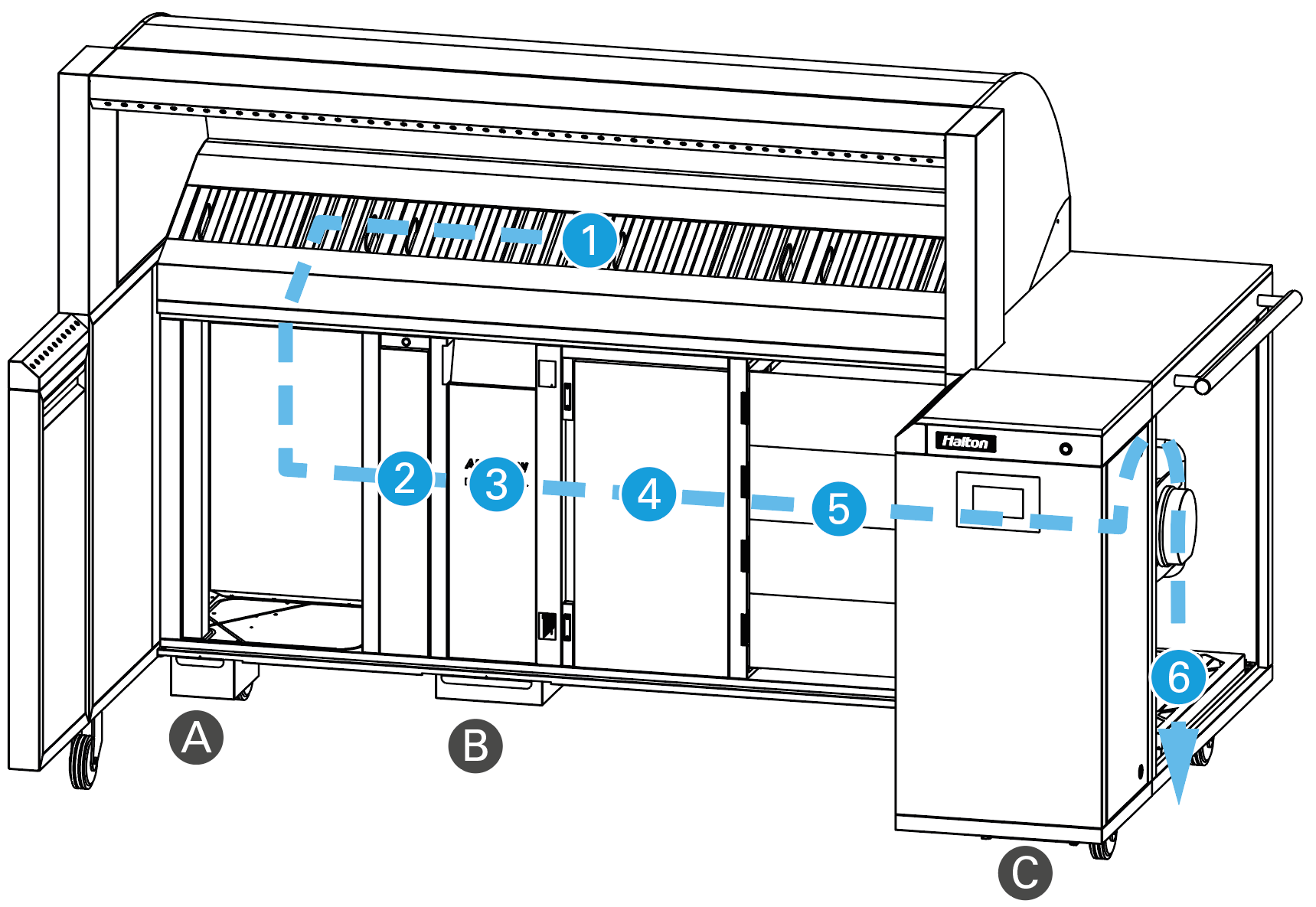 Halton's MobiChef integrates a highly efficient recycling unit based on a process composed of not less than 6 steps.
It has been designed to drastically remove the grease and smoke particles released by the cooking appliances while greatly reducing the odor emissions.
The air can then be freely discharged back into the dining area where the cooking station is installed. As a matter of fact, Halton's MobiChef does not require any connection to a ventilation duct.
1 – Mechanical double stage pre-filtration comprising Halton's KSA cyclonic aerosol separators and MFA mesh filters. This combination removes very efficiently large and medium sized particles. Both are cleanable in a dishwashing machine.
2 – Additional disposable pre-filter rated M5 (per EN779).
3 – The three pre-filtration steps allow the ESP (Electrostatic Precipitator) to work at maximum efficiency. ESPs induce an electrostatic charge on the particles which pass through it, in order to then collect them on plates which generate a magnetic field. Halton MobiChef's ESP is very efficient on fine particles, including grease particles and vapor; and it is cleanable.
4 – MERV 16 (per Ashrae 52.2) absolute filter, rated 95% DOP for 0.3 microns aerosols. It is used to remove ultra fine particles, mainly contained in smoke.
5 – Part of the odors are carried by the grease particles and vapors, as well as by the smoke. They are drastically removed by the previous filtration steps. The remaining odors, and especially VOCs, are greatly removed by a combination of activated carbon and chemical pellets. The first removes gases by adsorption. The second removes them by adsorption, absorption and chemical reaction (which mitigates the risk of desorption).
6 – A terminal synthetic filter impregnated with carbon finalizes the treatment in order to reduce the odors emissions at its lowest possible level.
A – Grease tray for the mechanical pre-filtration.  B – Grease tray for the ESP.  C –  Filter for the integrated Capture Jet™ fan.
Quick selection data


(1) Indicative recirculation airflows which can be adjusted depending on the cooking appliances technical specifications