The Halton FDI fire damper is installed on concrete or masonry walls and ceilings and on lightweight walls.
See installation video from link below:
Halton FDI installation
An opening is always left in the separating element for the casing of the product to be led through the structure. The maximum diameter of the installation hole is the fire damper diameter D + 20 mm.
To make installation easier, all products come with an installation/casting frame, which is used to fasten the fire damper to the wall surface or the steel frame of the plasterboard wall.
The installation is finished by filling the casting frame from the front of the device with a gypsum-based firestop certificated fire break compound that is tested for use for this purpose (GBG from Palokatkomiehet Oy; CP 637 from Hilti; or FIREBREAK COMPOUND from Würth). During installation, the fire damper and actuator must be protected with, e.g. a plastic cover.
When the Halton FDI fire damper has a factory made pre fire break grouting (AC=FB), it can be installed to a lightweight panel walls by using four suitable screws to a steel frame or a wooden joist (see pictures below). The fire damper can be installed to the masonry structures by using four 8 mm steel wedge anchor.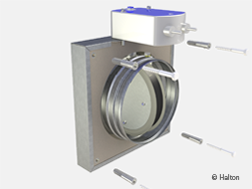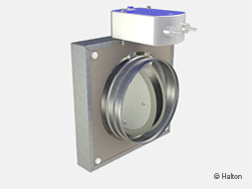 The correct operation of the fire damper must be ensured both before and after grouting. Setting of the damper is performed from outside the device.
Detailed installation instructions, as well as an installer's installation certificate form, are supplied with each product. See also the Documents / Installation Instructions.
Electric actuator wiring diagram (Siemens)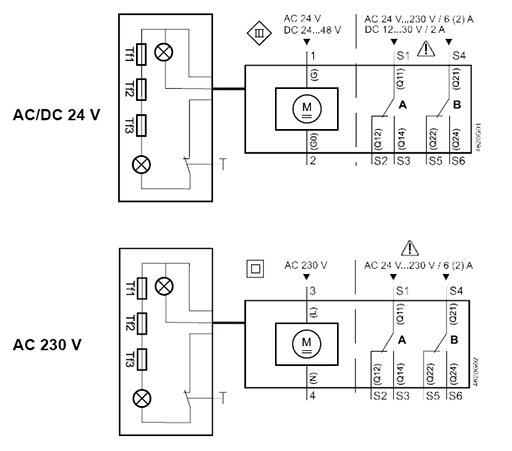 Manual actuator wiring diagram (limitswitch, MS)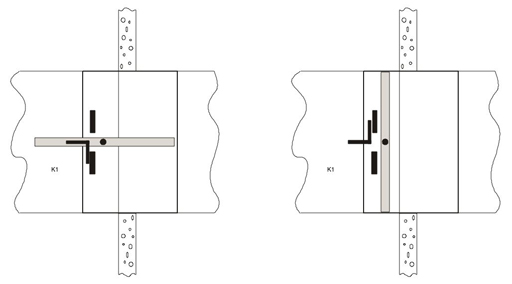 Fire damper open                                   Fire damper closed
K1:  13/14 closed                                    K1:  13/14 open
21/22 open                                             21/22 closed
The manual fire damper can be equipped with a bipolar limitswitch (MS) which indicates the closing of the shutoff blade. The limitswitch has potential-free points (no = normally open and nc = normally closed), which can be used to control other fire dampers equipped with an electric release, e.g., triggering an alarm in the fire suppression system. The maximum operating voltage and current is 400 V, 10 A.