Floor supply system design
Halton BCF floor diffusers are designed for installation in raised floor systems like auditoriums, conference rooms, theatres, where a high level of comfort and conveyance is required. Supply air velocity must be very low to reduce discomfort that may be felt in the near zone.
We recommend designing as a displacement system with a maximum supply temperature of 3º C below room. Supply 10 to 15 l/s per unit and allow a distance between outlets of 0.8 to 1 meter. Where comfort requirements are less important, higher airflow rates can be used, generating increased velocities close to the diffuser.
Discomfort may be felt if exposed for an extended period of time. In this case outlets should be installed at least 1.5 m from the work place or other continuously occupied areas.
Connection of the diffusers
The Halton BCF is suitable for installations without ductwork connections (figures 1 and 2).
The space beneath the raised floor is used as a distribution plenum chamber. Construction includes a perforated cylinder inside the sleeve, which causes an efficient pressure loss and provides a self-balancing system.
We recommend designing the system so that the pressure inside the plenum chamber will be 10 … 40 Pa.
Where the plenum chamber has a large volume, we recommended the use of multiple air introduction points (figure 2).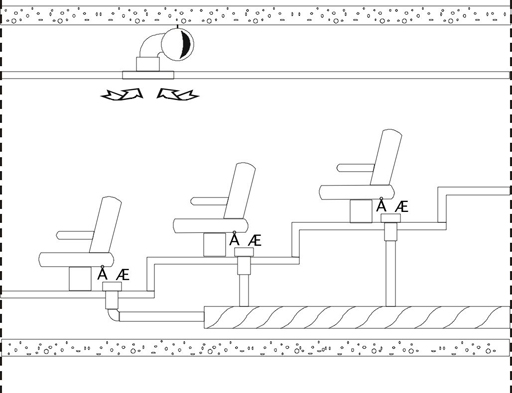 Fig. 1.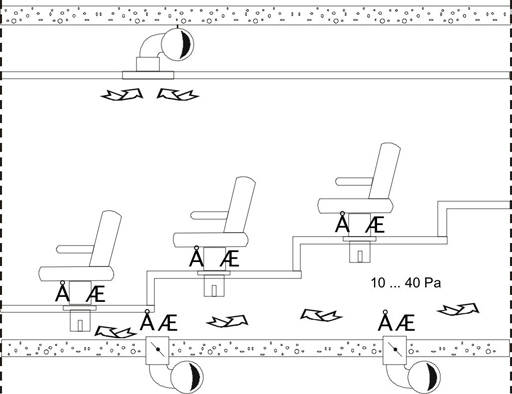 Fig.2.