Overview
Specially designed for large enclosures
Long throw pattern with low velocity reduction
Directional air pattern; maximum deflection angle of 30° in all directions
Circular duct connection with rubber gasket
Corrosion resistant plastic material
Product models
Model with adjustment damper
Model with reversible nozzle (compact / wide jet)
Dimensions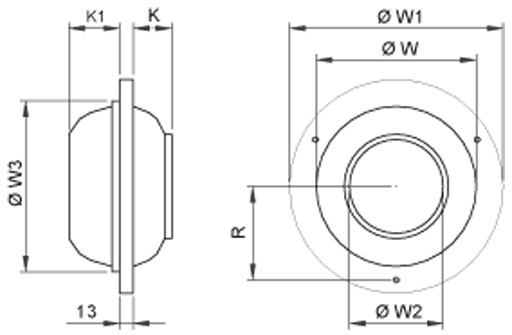 | | | | | | | | |
| --- | --- | --- | --- | --- | --- | --- | --- |
| NS | ØW | ØW1 | ØW2 | ØW3 | K | K1 | R |
| 75 | 76 | 127 | 37 | 86 | 19 | 16 | 51 |
| 100 | 102 | 152 | 51 | 112 | 27 | 24 | 63.5 |
| 150 | 152 | 203 | 89 | 162 | 37 | 41 | 89 |
| 200 | 203 | 254 | 127 | 213 | 50 | 60 | 114.5 |
Material
Part
Material
Finishing
Circular frame,
Ball joint
Thermo Plastic,
Medium Impact Flame Retardant
grade ABS 94V-0 rating per
UL standard 94
White (Pearl)
Rear flange
Aluminium
Anodised
Gasket
Open cell polyester foam
–
Product models
Product model
Code
Description
 IAO with annular damper
IAO/A
Adjustable airflow rate
 Reversible IAO model
IAO/R
The discharge air pattern can be reversed from an
efficient and accurate compact jet to a high
aspiration and draftless diffusion air distributor.
Function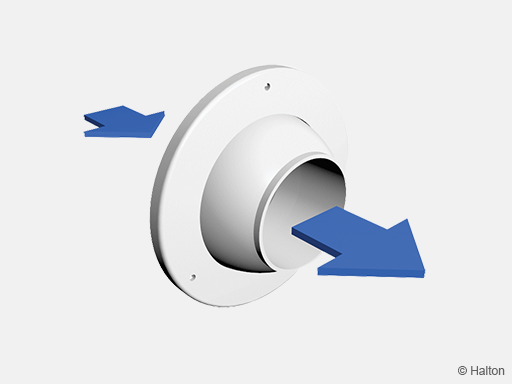 Air is supplied into the space at a high velocity.
The supply air mixes efficiently with the room air, with a high induction effect.
The supply air jet can be directed at an angle of 30° when the angle of roll is 360°.
The adjustment of the supply air pattern (model IAO/R) from radial jet position to compact jet position can be performed manually.
Installation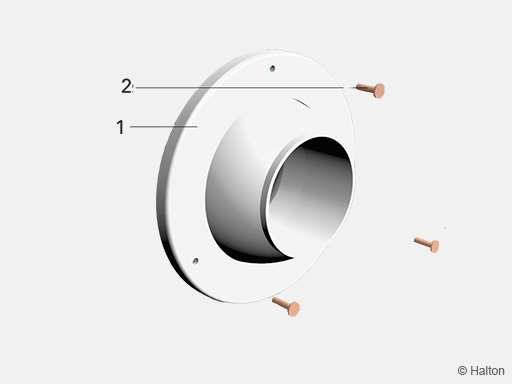 Key
1.  Frame
2.  Fixing screws
The Halton IAO jet nozzle diffuser is fastened to the duct or wall with screws.
Screw in the fixing screws in pre-drilled holes in the front panel.
Dimensions of opening
| | |
| --- | --- |
| NS | ØW3 |
| 75 | 86 |
| 100 | 112 |
| 150 | 162 |
| 200 | 213 |
Servicing
Remove the diffuser by unscrewing the visible fixing screws.
Clean the parts by wiping them with a damp cloth.
Push the diffuser back into place and screw in the fixing screws.
Specification
The circular flange of the front panel and the ball joint are made of plastic with a high fire resistance rating in accordance with the UL94 standard.
The colour of the diffuser is white.
The rear flange is made of anodised aluminium.
The Halton IAO diffuser is be equipped with a sealing gasket.
It is possible to direct the supply air jet at an angle of 30° when the angle of roll is 360°.
The jet nozzle diffuser has a sufficient pressure drop for a self-balancing system with several units.
Order code
IAO/S-D, CO, ZT
S = Model
N     Standard
A     Adjustable (with damper)
R     Reversible nozzle (Compact/wide jet)
D = Connection size (mm)
75, 100, 150, 200
Other options and accessories  
CO = Colour
W    White (RAL 9010)
ZT = Tailored product
N      No
Y      Yes (ETO)
Code example
IAO/N-75, CO=W, ZT=N