Overview
Horizontal supply, for circular duct installations
For cooling and heating applications; suitable also for exhaust
Adjustable vertical front vanes, adjustable horizontal rear vanes
Steel construction
Visible screw fastening
Product models and accessories
Model with wax-bulb actuator for directing the supply air jet in heating operation
Opposite blade damper for airflow control
Dimensions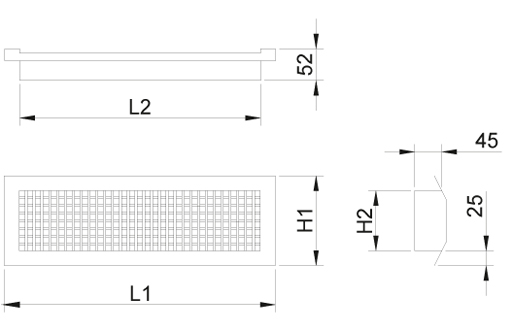 | | | | | | |
| --- | --- | --- | --- | --- | --- |
| L x H | L1 | L2 | H1 | H2 | Duct size |
| 415 x 72 | 450 | 400 | 107 | 57 | 160 to 400 |
| 495 x 72 | 530 | 480 | 107 | 57 | 160 to 400 |
| 575 x 72 | 610 | 560 | 107 | 57 | 160 to 400 |
| 415 x 115 | 450 | 400 | 150 | 100 | 315 to 630 |
| 495 x 115 | 530 | 480 | 150 | 100 | 315 to 630 |
| 575 x 115 | 610 | 560 | 150 | 100 | 315 to 630 |
| 495 x 155 | 530 | 480 | 190 | 140 | 630 to 1500 |
| 575 x 155 | 610 | 560 | 190 | 140 | 630 to 1500 |
| 495 x 195 | 530 | 480 | 230 | 180 | 800 to 1800 |
| 575 x 195 | 610 | 560 | 230 | 180 | 800 to 1800 |
Total depth with OG/GDD (airflow adjustment damper) = 52 mm + 45 mm
The free area of the Halton GDD is 62 %.
Material
Part
Material
Finishing
Note
Frame
Steel
Polyester-painted
Grey (RAL 7004/30% gloss)
Special colours and
epoxy-painting (100%) available
Vanes
Steel
Polyester-painted
Grey (RAL 7004/30% gloss)
Special colours and
epoxy-painting (100%) available
Accessories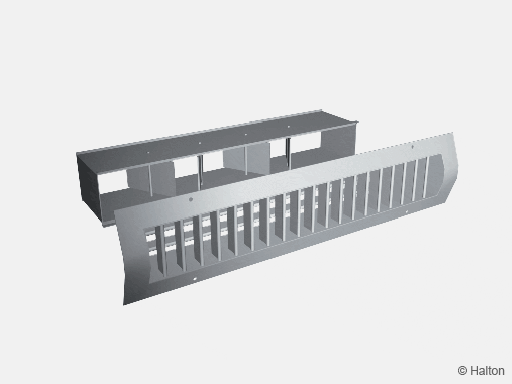 Accessory
Code
Description
 Airflow adjustment damper
OG
Aluminium opposite blade damper
for flow adjustment
 Wax-bulb actuator
MT
The actuator controls the vane angle
depending on the supply air temperature
Wax-bulb actuator
In applications where both heating and cooling are provided, the air pattern can be changed automatically via a wax-bulb actuator.
The wax-bulb actuator alters the angles of the horizontal rear vane depending on the supply air temperature. Neither auxiliary energy nor a dedicated control system are needed.
When cold air is supplied at a temperature up to 18°C the supply jet is horizontal. The vane angle is 0°. As the supply air temperature rises, the actuator piston progressively changes the angle of the rear vanes in order to direct the supply air jet downwards. The vane angle reaches 45° in 10 to 20 minutes.
No maintenance is required for the wax-bulb actuator.
Function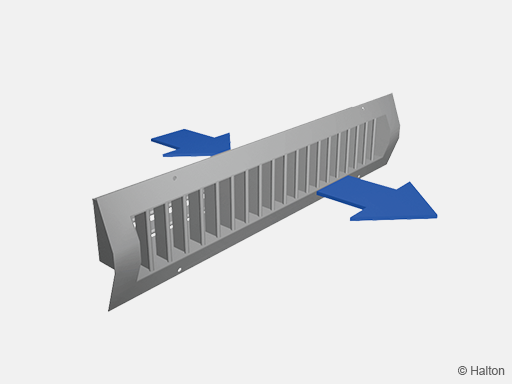 Supply air is supplied into the space with either horizontal and/or vertical deflection. The supply air mixes with room air in front of the grille.
The supply air is directed horizontally with the adjustable rear vanes.
The length and form of the flow pattern can be adjusted by turning the vertical vanes.
The rear vane angle can also be controlled by an optional wax-bulb actuator.
Installation
The grille is connected directly to the duct. For the size of the installation hole, see Dimensions page (LxH).
The grille is fastened to the duct with visible screws in pre-drilled holes in the frame.
Adjustment
The airflow rate can be adjusted when the grille is installed with the airflow adjustment damper OG/GDD.
The airflow is adjusted by turning the damper blades behind the grille with a screwdriver
Servicing
Remove the grille by unscrewing the visible fixing screws.
Clean the parts by wiping them with a damp cloth.
Push the grille back into place and screw in the fixing screws.
Specification
The grille is made of steel polyester-painted with grey (RAL 7004) standard colour.
The grille has adjustable horisontal rear and vertical front vanes.
The frame comprises a sealing gasket.
The grille is fastened directly to the circular duct with visible screws.
The grille can be installed with an airflow adjustment damper.
The grille has removable for cleaning purposes and to provide access to the circular duct.
Optionally
The supply air jet is controlled according to supply air temperature by a wax-bulb actuator.
Order code
GDD-L-H; CO-AC-ZT
L = Length (mm)
415, 495, 575
H = Height (mm)
72, 115, 155, 195
Other options and accessories
CO = Colour
G       Grey (RAL 7004)
SW    White (RAL 9003)
X       Special colour (RAL xxxx)
AC = Accessories
MT     Wax-bulb actuator
ZT = Tailored product
N        No
Y        Yes (ETO)
Sub products
OG      Opposed blade damper (GDD)
Code example
GDD-415-72, CO=G, ZT=N