Overview
Supply air valve.
Wall installation.
Adjustable airflow rate.
Ability to measure airflow rate.
Installation without installation frame.
Openable front panel for duct cleaning.
Dimensions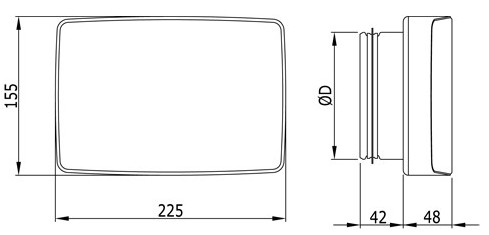 Material
Part
Material
Note
Casing
Steel
–
Front panel
Perforated steel
–
Trimming plate
HD polyethene
–
Collar
Galvanized steel
–
Gasket
Rubber combound
–
Finishing
Painted,  white (RAL 9003)
or black (RAL 9005)
Special colours available
Function
Halton BOS supply air valve will be suitable in solutions where small airflow rates are required and air supply will be made from wall.
Supply air is discharged through the perforated front panel direct forwards.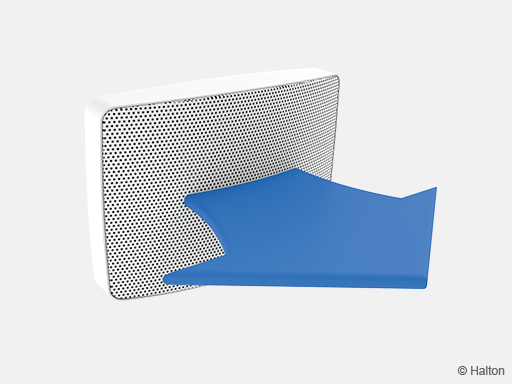 Airflow rate can be adjusted by changing the size of the trimming plate.
Installation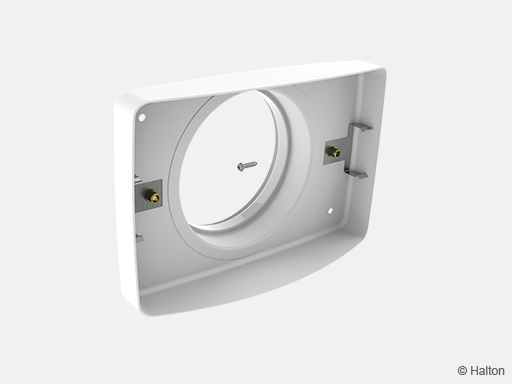 Fix the casing to the duct by screwing or riveting from the spigot.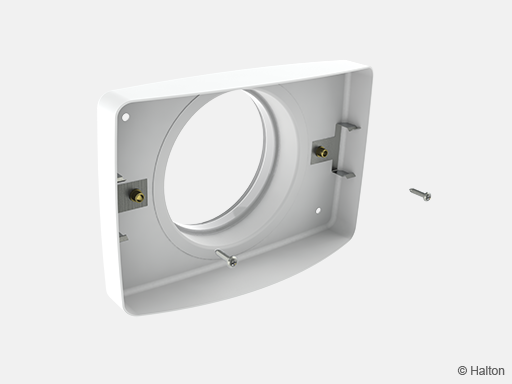 Or with the screws from the bottom of the casing.
Halton BOS supply air valve will be installed on wall surface to the needed height, it could be installed close to the ceiling surface.
It will recommend having a minimum disctance of 50 mm to the ceiling surface enabling the opening for front panel.
A recommended minimum safety distance before the valve is 3xD.
Adjustment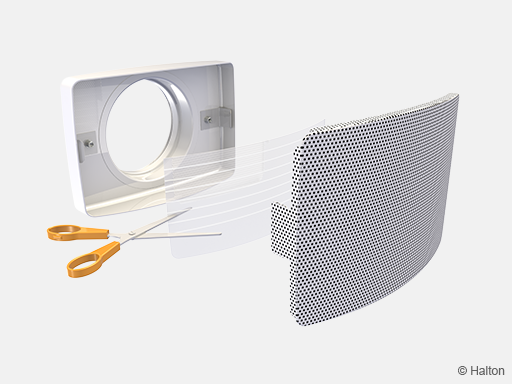 Adjust the airflow rate by cutting the trimming plate according the needs.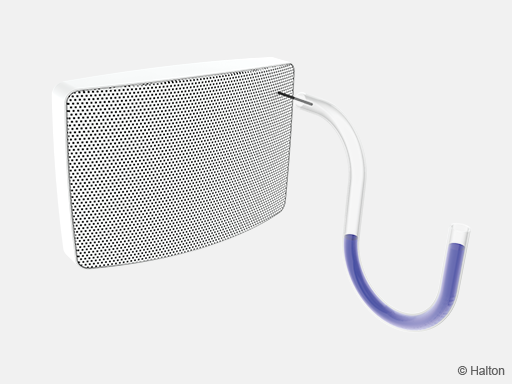 Set a probe inside the valve and measure the differential pressure with a manometer. The location for the probe would be about 20 mm from top and side surfaces.
The airflow rate for Halton BOS is calculated using the formula and coefficients from the table below:
| | |
| --- | --- |
| A | k |
| 10 *) | 1,60 |
| 9 | 1,80 |
| 8 | 2,11 |
| 7 |  2,39 |
| 6 |  2,66 |
| 5 |  2,91 |
| 4 | 3,22 |
| 3 |  3,45 |
| open | 4,08 |
These values will be valid for both valve sizes (ØD = 100, 125).
*)  Uncut trimming plate
Servicing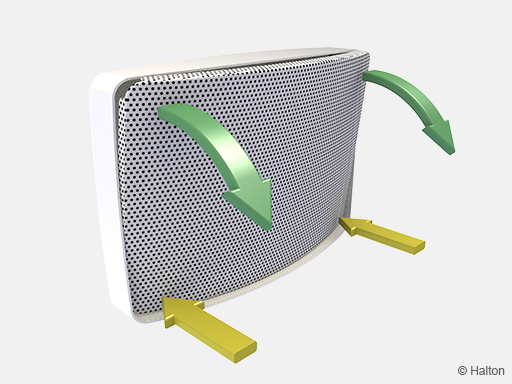 Pressing the both corners of the front panel at the same time and release the front panel by pulling carefully from the opened side.
Note the position of the throttle plate. Wipe the parts with a damp cloth, instead of immersing in water.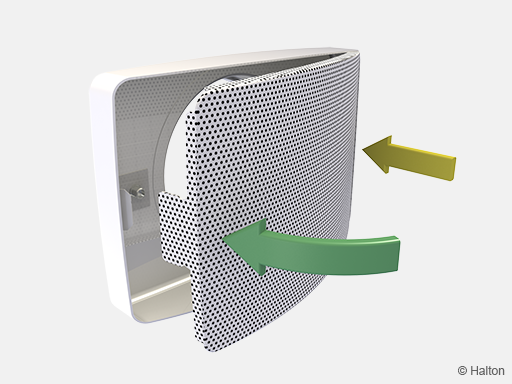 Reassembly the front panel after cleaning.
Specification
The rectangular supply air valve shall have a detachable front plate and casing made of painted steel with a white (RAL 9003) or black (RAL 9005) standard colour.
The casing shall incorporate a sealing gasket.
Supply airflow rate and throw length shall be adjusted by adjusting the size of trimming pale in the front panel. Pressure loss shall be selected at the same time as the flow pattern adjustment and balancing.
Order code
BOS-D;CO-ZT
D = Duct connection size (mm)
100, 125
Other options and accessories
CO = Colour
SW    Signal White (RAL 9003)
B        Jet black (RAL 9005)
X        Special colour (RAL xxxx)
ZT  = Tailored Product
N       No
Y       Yes (ETO)
Code example
BOS-100, CO=SW, ZT=N