Code description
1.   Plastic plug
2.   Central fixing screw
3.   TSR diffuser
4.   Mounting bracket
5.   TRI plenum
The diffuser is connected either directly to the duct by screwing or riveting, or alternatively to the Halton TRI balancing plenum.
The recommended minimum safety distance upstream of the diffuser is 3xD.
Installation with plenum Halton TRI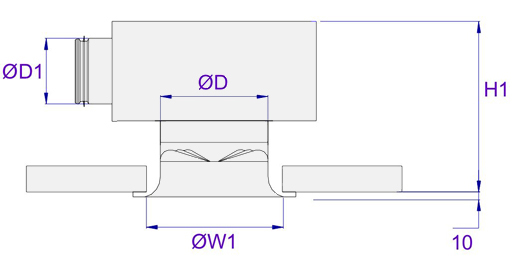 The mounting bracket should be used for installing Halton TSR to TRI plenum to allow easy diffuser removal.
The collar of Halton TRI plenum can be installed either internally in the plenum or externally on the bottom of the plenum. The height of the unit for the extern al installation is presented in the table below. When the collar is installed internally, the total height H1 is reduced by 60 mm.
Note: The technical performance for the combination of supply air diffuser and plenum is presented separately for the two different installations.
| | | | | |
| --- | --- | --- | --- | --- |
| ØD | ØD1 | TRI | H1 | W1 |
| 125 | 100 | TRI-100-125 | 246-276 | 170 |
| 125 | 125 | TRI-125-125 | 276-306 | 170 |
| 160 | 125 | TRI-125-160 | 276-305 | 210 |
| 160 | 160 | TRI-160-160 | 316-346 | 210 |
| 200 | 160 | TRI-160-200 | 316-346 | 250 |
| 200 | 200 | TRI-200-200 | 366-396 | 250 |
| 250 | 250 | TRI-250-250 | 366-396 | 300 |
| 250 | 250 | TRI-250-250 | 430-460 | 300 |
| 315 | 250 | TRI-250-315 | 430-460 | 390 |
| 315 | 315 | TRI-315-315 | 476-506 | 390 |