Overview
Halton's P2 pizza oven exhaust hood or eyebrow hood is designed to provide optimal capture performance when used with pizza ovens. This hood is designed to hang directly above the pizza oven which provides an operational advantage of capturing the grease, smoke, and other effluents directly above the pizza oven outlets. By localizing the capture area the hood can efficiently capture and effectively eliminate convective heat spillage to the store.
Precise overhang distance maximizes heat capture.
Angular deflectors smoothly direct heat toward the exhaust duct.
High velocity transition precisely designed to pull exhaust into the duct.
Equipment
Standard Equipment
4 Aluminum Filters
Listed per UL710
Transitional Ductwork
Exposed Surface 430 Stainless Steel
Partial Hood Skirts
Optional Equipment
Conveyor Side Skirts
Pushbutton Start
Closure Panels
Conveyor Stops
Control Panel
Vertical Duct Cover
Dimensions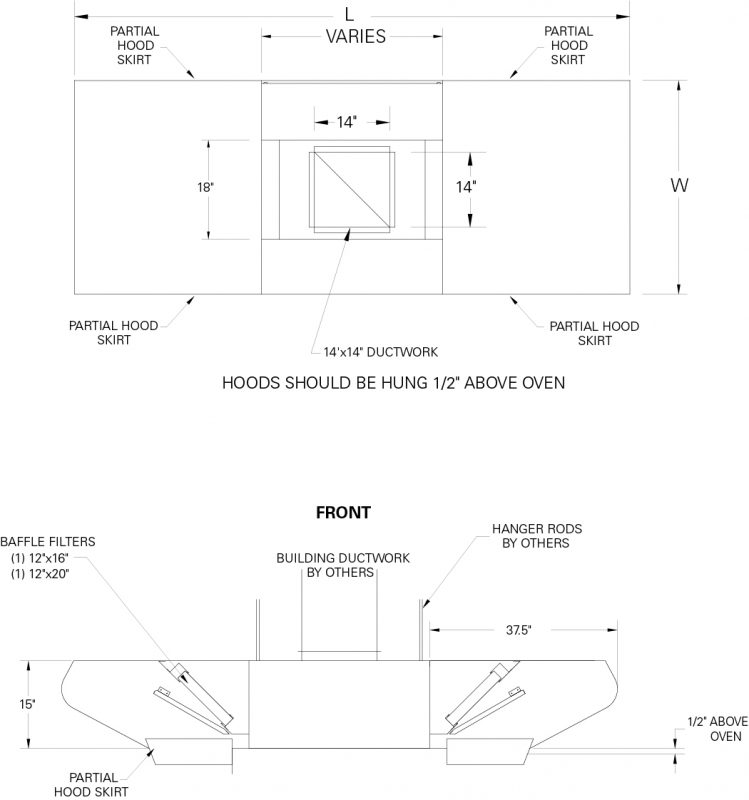 Consult factory for exhaust rate criteria.
Please provide make and model of conveyor oven as well as number of decks being used.