Safety distances
The airflow control damper is installed taking into account the required safety distances. Install the unit into ductwork in such a way that the air flow direction through the unit is as indicated with the arrow in the unit casing.

For the pressure control damper the minimum safety distance for the static measurement tab after the control damper is 5 x D. Please refer to job drawings.
Wiring
The wiring shall be carried out in accordance with local regulations and by professional technicians.
For the power supply of all control options, a safety-isolating transformer shall be used.
The wiring instructions are presented following applications:
1 A      UKV;  CU=EM / EK / EC / EE   Typical variable airflow control application
1 B      UKV;  CU=EM / EK / EC / EE   Overriding controls
1 C      UKV;  CU=EM / EK / EC / EE   Example; variable airflow control with a room controller
1 D      UKV;  CU=EM / EK / EC / EE   Example; variable airflow control with a building management system
1 E      UKV;  CU=EM / EK / EC / EE   Example: parallel airflow control with a building management system
3 A     UKV; CU=EG    Typical variable airflow controll
3 B     UKV; CU=EG    Position & constant airflow control
Control units
CU       Description                                              Note
EM       Halton LMV-D3-MF-F.1 HI                       (5 Nm)
EK       Halton NMV-D3-MF-F.1 HI                       (10 Nm)
EC       Halton LMV-D3-MP-F.1 HI                        (5 Nm, with Belimo MP-bus)
EE       Halton NMV-D3-MP-F.1 HI                       (10 Nm, with Belimo MP-bus)
EG       Siemens GLB181.1E/3                               (10 Nm)
1A & 1B
Example: UKV;
CU = EM / EC (LMV-D3-MP/MF HI) or EK / EE (NMV-D3-MP/MF HI)
– typical application and overriding controls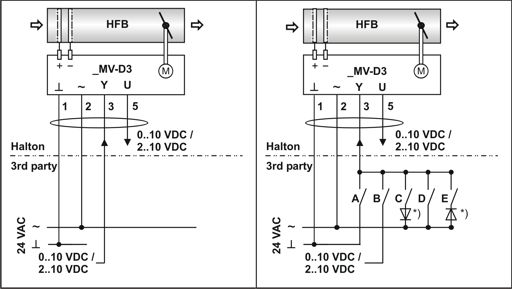 1A Typical variable airflow control application 1B Overrides All options
Code description
Halton            Delivered by Halton
3rd party        Delivered by a third party
ACD              UKV
1 (G0)            24 VAC system neutral
2 (~)              24 VAC live
3 (Y)              2…10- or 0…10-VDC airflow setpoint signal input
5 (U5)            2…10- or 0…10-VDC airflow feedback signal output
*)                   Diode 1N 4007
Operating mode
2…10 VAC
0…10 VAC
A
B
C
D
E
NA
NA
ON
qv_min
qv_min
Off
Off
Off
Off
Off
Constant flow
Variable
qv_min…qv_max
Variable
qv_min…qv_max
Off
ON
Off
Off
Off
CLOSED
CLOSED
Off
Off
ON
Off
Off
qv_max
qv_max
Off
Off
Off
ON
Off
Constant flow
OPEN
OPEN
Off
Off
Off
Off
ON
Shut-off with control signal w:
In addition to relay override command situations, the damper will be fully closed if:
0…10 VDC: the UKV minimum airflow is set to 0% (0 l/s or 0 m3/h) and control signal w falls below 0.45 VDC
2…10 VDC : the UKV control signal w falls below 0.5 VDC
Both 0…10 VDC and 2…10 VDC: the airflow setpoint voltage falls below a value corresponding to an air velocity of less than 0.5 m/s
 Mode
Voltage of
w, VDC
 Function
 0…10 VDC
0.0…0.45
 Minimum airflow (closed if qv_min = 0%)
0.5…10.0
 Modulating, qv_min … qv_max
10.0
 Maximum airflow
 2…10 VDC
0.0…0.5
 Damper closed
0.5…2.0
 Minimum airflow
2.0…10.0
 Modulating, qv_min…qv_max
10.0
 Maximum airflow
1C & 1D
Example: UKV;
CU = EM / EC (LMV-D3-MP/MF HI) or EK / EE (NMV-D3-MP/MF HI)
– variable airflow control with a room controller or a building management system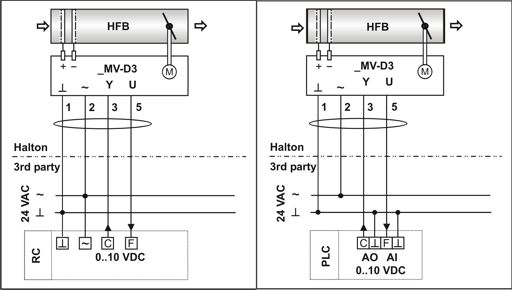 1C Room controller application                    1D Building management system application application
Code Description
Halton            Delivered by Halton
3rd party        Delivered by a third party
ACD              UKV
1 (G0)            24 VAC system neutral
2 (~)              24 VAC live
3 (w)              0…10-VDC airflow setpoint signal input
5 (U5)            0…10-VDC airflow feedback signal output
RC                 Room controller
PLC               Building management system
C (AO)           Airflow setpoint control signal
F (AI)             Actual airflow feedback input
1E
Example: UKV;
CU = EM / EC (LMV-D3-MP/MF HI) or EK / EE (NMV-D3-MP/MF HI)
– parallel airflow control with a building management system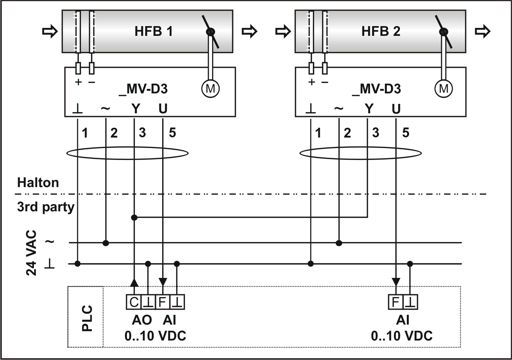 1E  Parallel airflow control with building management system
Code Description
Halton            Delivered by Halton
3rd party        Delivered by a third party
ACD1            UKV supply
ACD3             exhaust
1 (G0)             24 VAC system neutral
2 (~)               24 VAC live
3 (w)               0…10-VDC airflow setpoint signal input
5 (U5)             0…10-VDC airflow feedback signal output
PLC                Building management system
C (AO)            Airflow setpoint control signal
F (AI)              Actual airflow feedback input
3A & 3B
Example: UKV;
CU=EG (GLB181.1E/3)
– typical variable airflow control and position & constant airflow control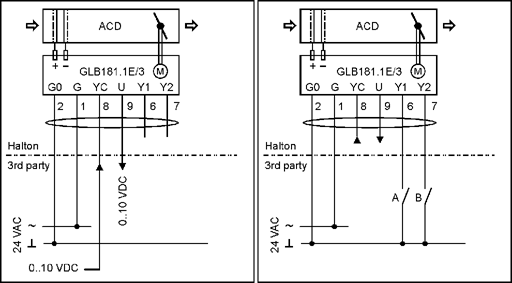 3A Typical airflow control application             3B  Position & constant airflow control
Code Description
Halton            Delivered by Halton
3rd party       Delivered by a third party
ACD               UKV
2 (G0)             24 VAC system neutral
1 (G)               24 VAC live
8(YC)              2…10- or 0…10-VDC airflow setpoint signal input
9 (U)               2…10- or 0…10-VDC airflow feedback signal output
6 (Y1)             Override input
7 (Y2)             Override input
| | | |
| --- | --- | --- |
|  Constant flow | A | B |
|  CLOSED | Off | ON |
|  Min. flow | Off | Off |
|  Max. flow | ON | ON |
|  OPEN | ON | Off |