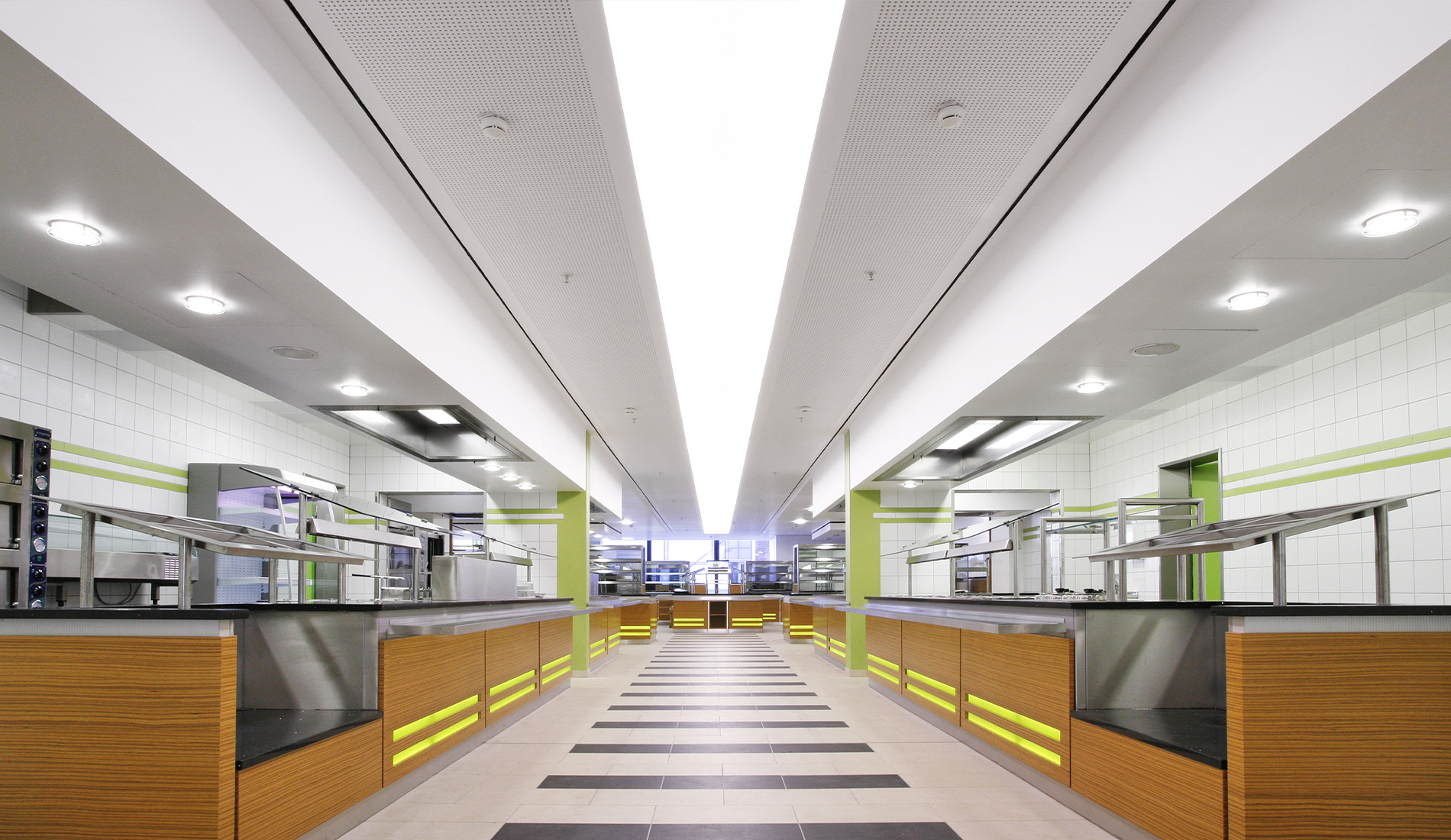 Ventilation of cafeteria kitchens for hospitals
Despite a wide assortment of cafeterias types in Hospitals, financial pressure on the meals cost and hygiene remain the considerable concern.
Health and education sectors are one of the most significant catering segments. The sector is challenged with producing a large number of well-balanced meals, in perfect safety, with ever-increasing quality demands and strong financial constraints! Balancing this equation, the public or private operators of cafeteria kitchens for Hospitals is not an easy one to solve.
Halton's ventilation solutions address many of the unknowns to contribute to overcoming these challenges.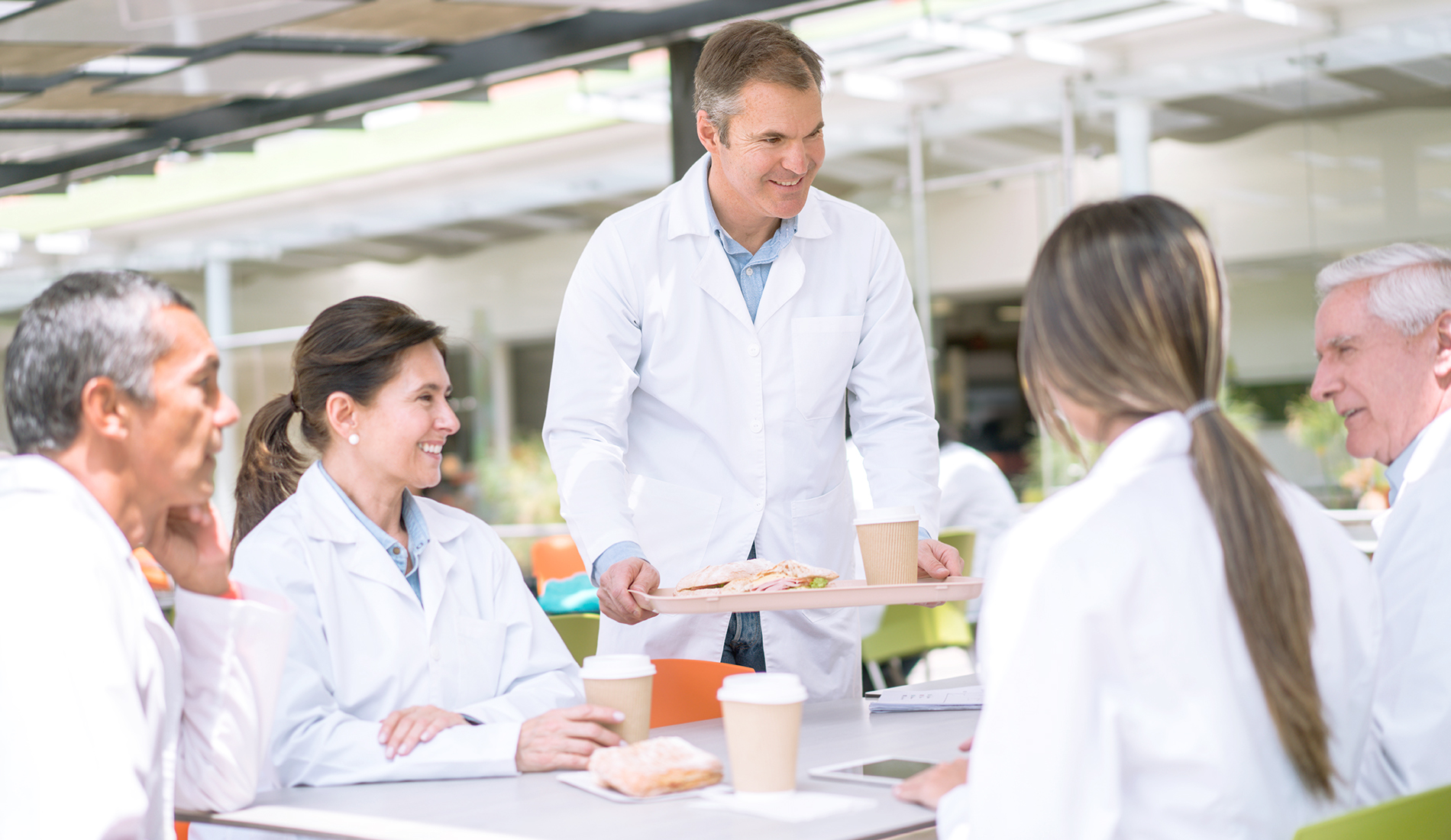 Typical challenges
There is variety with hospital cafeterias types. For example, big health centers, especially university hospitals, have large canteens, with independent kitchens that are be comparable to those in the education sector. Smaller hospitals have more modest cafeterias whose meals can be produced by central kitchens and regenerated on site. Still the challenges are the same for cafeterias in Hospital sector.
On a smaller scale than central kitchens, canteens with independent kitchens are characterized by cooking appliances of high capacity, but the comparison stops there. As all preparation is on site, cafeterias have unquestionably a wider variety of cooking appliances, whether located in the production area or on complementary kiosks in the dining area. The variability of the exhaust needs are significant. In some configurations, the exhaust airflow needs can move from the production to the dining area.
Hygiene is crucial for such production tool. The requirements are the most stringent of the catering business, at every level, including the ventilation system which should not generate cross contamination of the air along with other demands.
Lastly, a significant trend is to create an open environment for the cafeteria production kitchens, which are not necessarily designed to do so.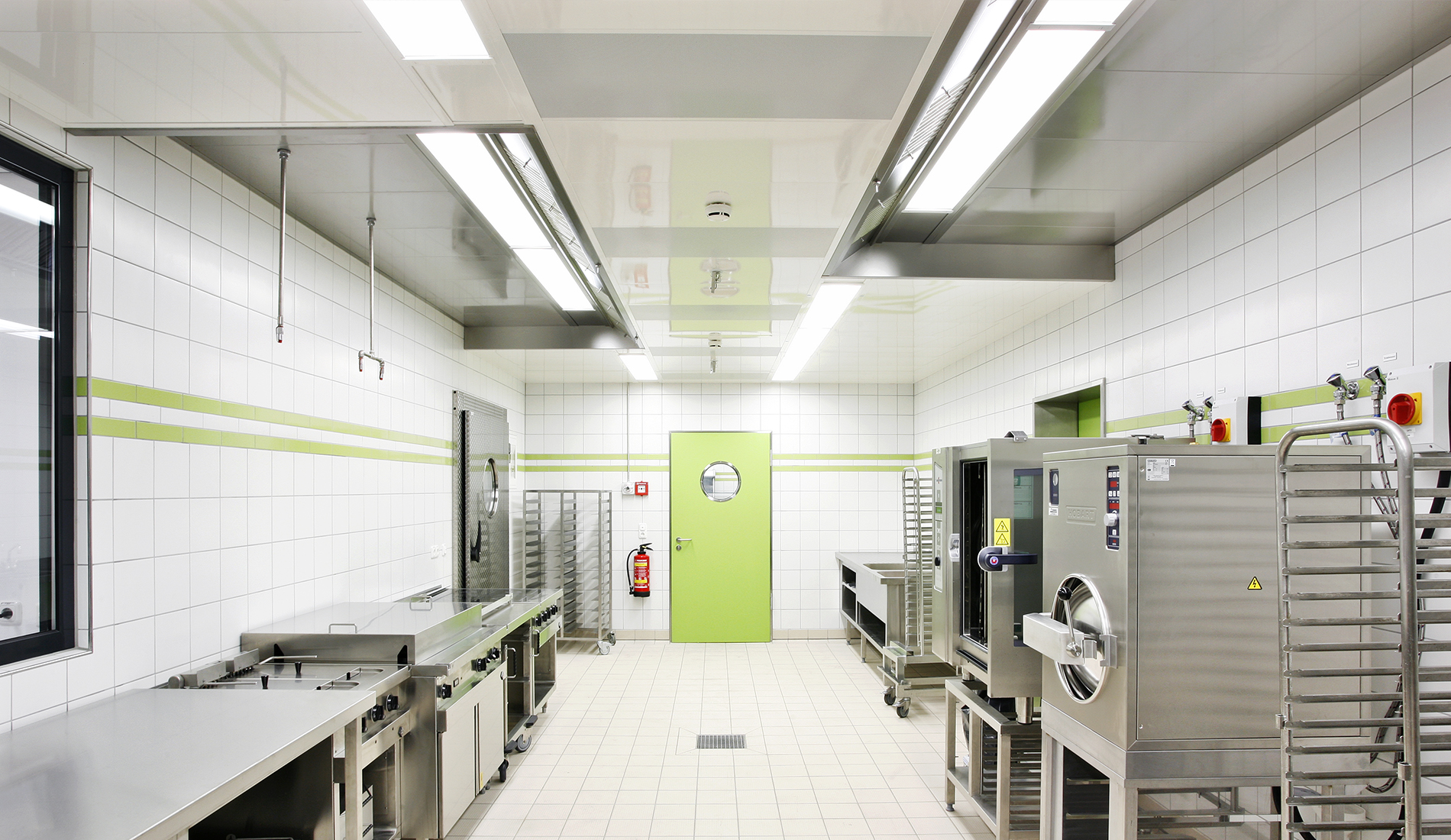 Why choose Halton
With Halton solutions, decrease the portion of the energy and maintenance in the meal cost while benefiting from the healthiest make-up air and a globally safe ventilation system.
Halton's hoods, ventilated ceilings and energy saving technologies comply with the highest hygiene, energy efficiency, and staff comfort standards. The same applies to the specific solutions for front-of-guests cooking solutions.
The embedded technologies benefit from advanced distant monitoring, enabling the best predictive maintenance to lower its cost.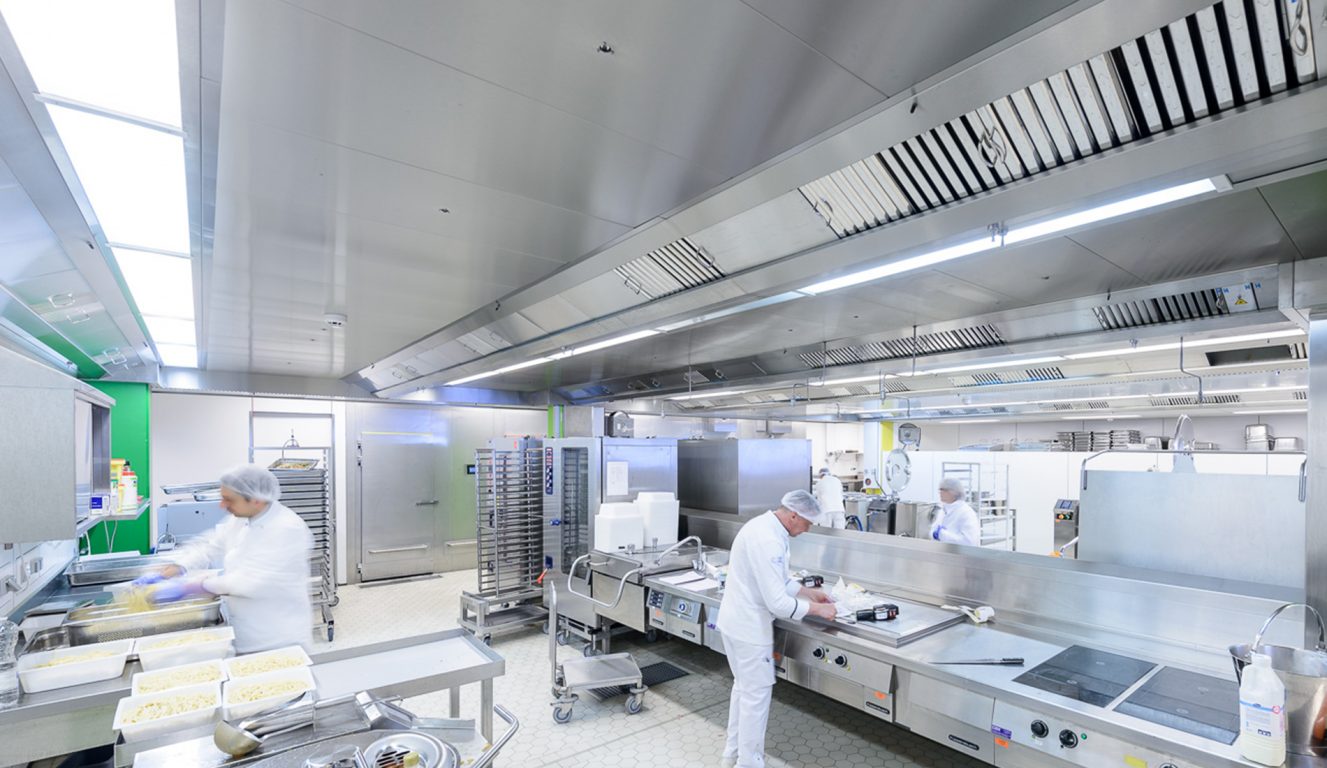 Halton's solutions assets
50 years expertise in innovative kitchen ventilation solutions.
Products and solutions HACCP* certified.
M.A.R.V.E.L. Demand Controlled Ventilation systems address the variability of the needs in exhaust airflow rates while suppressing cross contamination risks due to ventilation.
Solutions for the neutralisation of the grease and odors released by the cooking appliances which also opens the way to sustainable heat recovery.
Solutions for a healthy make-up air in dense urban sites.
Massive savings on the energy use.
Distant monitoring and smart services, enabling reaching the lowest failure rate and lowering the maintenance cost.
Efficient solutions for front-of-guests cooking such as Jet Extraction systems.
* Hazard Analysis Critical Control Point
References
Our reference cases will provide you with an overview of the ventilation solutions we have designed for customers all around the world, for the cafeteria kitchens of hospitals.
Visit our full reference gallery and browse our project book. You will certainly find some that will appeal to you and see Halton is the global technology leader in demanding indoor environments.
Halton innovations
Innovation is paramount to address all challenges for commercial kitchen ventilation and our customers' needs. It is the cornerstone of our High Performance Kitchens designed to combine Health and Safety, Indoor Environment Quality (IEQ) and Sustainability.
Here are few of our innovations that are particularly suitable for the ventilation of cafeterias in hospitals.
Recommended CE marked products
Here are few of our products that are CE marked and particularly suitable for the ventilation of cafeteria kitchens of hospitals.
See a full list of Halton's products suited for Hospitals.
Full Product List
Recommended CE marked products
Here are few of our products that are CE marked and particularly suitable for the ventilation of cafeteria kitchens of hospitals.
See a full list of Halton's products suited for Hospitals.
Full Product List
Contact us!
Our specialists are at your disposal for inquiries or requests for quotations. Do not hesitate to call them or send them an email.
You can also fill in this form.
We'll be in touch with you shortly.
[contacts]